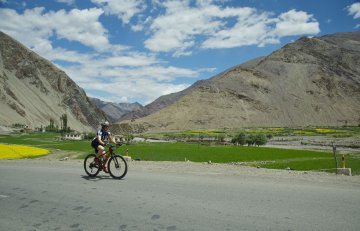 When: September 2018
A 1500km+ altitude journey through Ladakh and Zanskar regions. Starting in Leh (3500m), the regional tour will include several of the world's highest passes, four passes above 5000m, as well as explore the environs around Pangong and Moriri lakes.
This most northerly region in India is often called 'Little Tibet'; it is Buddhist and has the summer residence for the Dalai Lama. It is also a militarily sensitive region, where the borders of India, Pakistan and China meet. The region is often called the 'Third Pole' because, like with the Arctic and Antarctic, it is twice as sensitive to climate change as other parts of the world. Yet traditional Ladakhi culture is one of the world's most sustainable.
For the humanitarian mission, Kate has partnered with local organisation, Global Himalayan Expeditions, to participate in a project  to electrify the 1200 year old village of Ralakung, the most remote village in Zanskar, using solar power to provide light, education and a means of income generation. Receiving more sunlight than anywhere else in the world (more than 300 days annually), the Ladakh and Zanskar regions are ideally suited for generating solar power.
Prior to this, the expeditioners will set up an innovation (education) centre in the villages of Phe and Skgyam. The Raspberry Pi computer systems to be installed are extremely energy-efficient. With no internet access, the computer systems will be linked to special hard drives that contain a library of learning resources for the students – the next best solution. More information about the GHE expedition can be found HERE.
During the cycle journey from Leh to Phe, Kate will stop off at the villages that have already benefitted from receiving an innovation centre – Khalsi, Wanla, Photoksar and Lamayuru – to meet the community and present to the students.
Here is the planned route: Stage 1 being from Leh to Phe and Padum (to take part in the GHE projects and speak at the villages along the way); and Stage 2 being the regional tour from Leh to Taglang La Pass, Tso Moriri, Chang La Pass, Tso Pangong, Shyok, Khalsar and Khardung La Pass back to Leh.