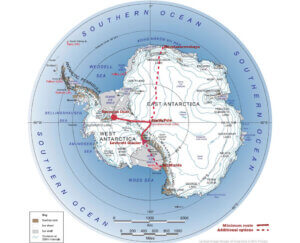 The physical mission of Breaking the Cycle South Pole is to make the first bicycle crossing of the Antarctic continent via the South Pole.
Primary considerations for crossing Antarctica by bicycle
1.  Route
There are several route options, the shortest, simplest being a 1800km journey from Leverett Glacier, (Ross Ice Shelf), 650km to the South Pole and then 1150km down to Hercules Inlet (Ronne Ice Shelf). The preferred journey would start at McMurdo Sound and involve crossing the Ross Ice Shelf to Leverett Glacier, a total of 2800km.
2. Conditions
Antarctica is the coldest, highest, driest, windiest continent on Earth. Kate will face katabatic polar winds as she pedals toward the South Pole, (altitude: 3000metres) and will generally benefit from a tailwind on the way back to the coast. Surfaces will vary from the firmer compacted snow on the South Pole Overland Traverse (SPoT) between McMurdo Base and the South Pole to icy sastrugi sculpted by the wind to 'bottomless' soft, dry snow (the most dreaded surface for a cyclist). Crevasses are most prevalent on the edges of the Antarctic plateau and around mountain ranges. Temperatures are expected to range between -15C and -40C in the extreme case.
3. Innovation
To turn this exciting challenge into reality Kate has been facilitating the development of some innovative technology such as the first all-wheel drive fat-bike, custom made clothing and the communications strategy.
Risk mitigation is the key to success
Kate's major expeditions have all finished on time, on budget, with no significant injuries and all key missions achieved. Each expedition (Europe, Russia, Australia, Africa, Namibia) has been a triumph in risk mitigation at every stage.
The process for Breaking the Cycle South Pole is essentially the same as for previous expeditions. It begins with meticulous research, training and preparation to understand the possible dangers and complexities of the journey. (For the Antarctic, polar training expeditions have been performed in Svalbard, Northeast Greenland, Arctic Canada and Iceland.) Next, realistic plans and systems are put in place to maximise the chance of success. Kate and her team then implement these plans throughout the expedition, always remaining alert and adaptable to changing conditions. Finally, it is essential to analyse and learn from these experiences for the next challenge.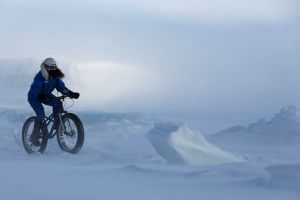 Breaking the Cycle South Pole Outcomes
Outreach
Breaking the Cycle will serve to build on Kate's commitment to contribute towards ending extreme poverty, supporting education and gender equality and protecting the environment. (Sustainable Development Goals 1,4, 5, 13 and 15)
Breaking the Cycle: Education aims to help prepare our future leaders to make informed decisions to create a better world. Students will be inspired to take action and become better global citizens.Partners include: the Duke of Edinburgh's International Award, Belouga, Exploring by the Seat of Your Pants, Scouts Victoria/Australia/WOSM and more.
Through the Breaking the Cycle Education Channel  students and educators will be able to follow Kate's expeditions and activities, take part in interactive lessons, watch live shows and films all accompanied by education resources, connect with classes in 120 countries around the world and access curriculum for The Duke of Edinburgh's International Award (Virtual Exploration for Bronze and Silver awards).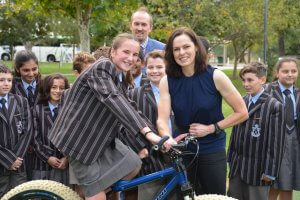 Kate has partnered with Y Generation Against Poverty (YGAP). YGAP is on a mission to significantly improve the lives of one million people living in poverty by 2021. It finds, accelerates, supports and grows early stage entrepreneurial ventures run by local leaders with solutions to poverty in their communities. Money raised by the Breaking the Cycle project will go towards ventures in Kenya and South Africa that support access to education.
A role model inspiring girls and women to aim high and achieve their full potential. 
Breaking the Cycle is very much about taking action and inspiring others – leaders and changemakers, of this generation and the next – to explore to find their passion and to aim high to achieve their full potential. In particular, it is unacceptable that 130million girls and women still don't have the circumstances to be the best they can be because they don't have access to an education. To provide them with opportunities for a quality education will surely go a long way to ending extreme poverty and the world will be vastly better off from the brimming potential that will be unleashed.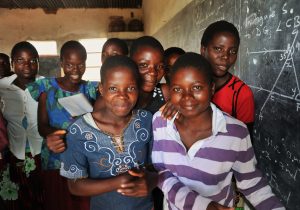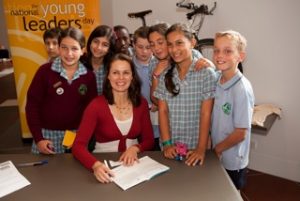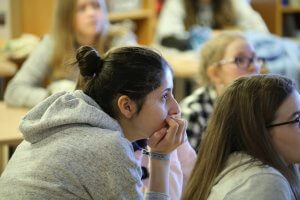 Breaking the Cycle South Pole will be a carbon-positive expedition. Kate plans to work with Carbon Positive Australia a Gold Standard carbon solutions provider, to not only offset the carbon cost of the expedition but help regenerate biodiversity in one of the world's 'biodiversity hotspots'.
By supporting Carbon Positive Australia's Yarra Yarra in the Wheatbelt region of Western Australia and contributing toward the country's largest biodiverse reforestation carbon sink, this project has special significance to Kate, who grew up on a wheat and sheep farm in the region. This aspect of the project will also be included in Breaking the Cycle: Education and linked to educational partners.
Media, marketing and PR
Kate's multi-award winning support team has a phenomenal track record in expedition management and world-class media production.
Emotionally engaging stories and professional content using the latest camera and satellite communication technology;
Collaborate with brands and broadcasters to produce the very best documentaries, viral films, social and digital media videos and images.
Work with sponsors to design the most effective campaigns before, during and after the expedition.
Find out more: BTC-SP Executive Summary *updated October 2022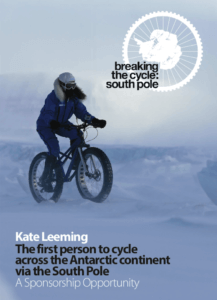 Contact Kate: kate@kateleeming.com