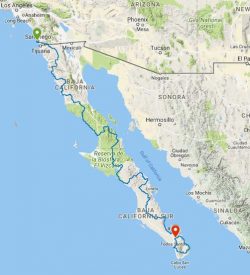 The Baja Divide was a rugged 1,700km bike-packing ride, using a combination of paved and unpaved roads and tracks, down the Baja California peninsula, from San Diego, California, USA to La Paz, Mexico.
The route connects the Pacific Ocean and the Sea of Cortez, historic Spanish mission sites rich with shade and water, remote ranchos and fishing villages, bustling highway towns, and crosses several of the major mountain ranges in Baja California on seemingly endless beautiful backcountry desert tracks.
Kate chose this self-supported journey to be the first of six expeditions – one on each continent – to prepare physically and mentally for her Antarctic crossing, due to begin in late November 2021. A mix of sand, rugged mountains climbs, riding challenging distances day after day, this adventure was perfect to form an expedition fitness base for the year ahead.
Kate and fellow expedition cyclist, Chris Pennington used mountain bikes with 27.5″ wheels and 2.8″ wide tyres in order to deal with the sandy and rugged conditions. It was necessary for them to use tubeless tyres (with a generous amount of sealant) to minimise issues with punctures from giant cactus thorns. The route was not signposted, so they often navigated using GPS.
Chris and Kate travelled as light as possible, as there were occasions where they had to carry enough water and food for 2 or 3 days. Being at the end of winter, they faced a temperature range of between about six degrees at night in the mountains to low-30s (Celsius) during the days, warming up as they head south.
Kate carried a BGAN satellite device so they were able to make reliable, regular communications. As a professional-level photographer and aspiring adventure filmmaker, Chris was able to capture the story of this challenging and exciting adventure.
Here's the trailer for the documentary:
Baja Divide Trailer (Kate Leeming and Chris Pennington) from Kate Leeming on Vimeo.