In March 2013, Kate, along with Australian polar guide and expedition leader, Eric Philips, renowned Swiss documentary filmmaker, Claudio von Planta and remote locations photographer and filmmaker, Phil Coates from the UK travelled to the island of Spitsbergen in the Norwegian archipelago of Svalbard to work out whether Kate's dream of cycling across Antarctica was realistic. 
Coming from Australia, Kate had never experienced the extreme cold before, let alone attempting to cycle across the variable snow and ice conditions. Kate was testing the very first custom made all-wheel drive fatbike, engineered and built by Steve Christini of Christini Technologies (Philadelphia USA), the inventor of an ingenious shaft drive system, the only all-wheel drive design that Kate felt could be robust enough to endure the polar conditions.
Cycling in soft snow at a latitude of almost 80 degrees North was a perfect introduction into the kind of conditions Kate and the team would face in Antarctica. With Claudio's and Phil's expertise they were able to capture some exquisite videos and images of the journey.
Below is Kate's blog about the team's experiences in Spitsbergen:
Breaking in to the Cycle
Here's the story of our week's journey through Spitsbergen's majestic mountains and fjords. It was a perfect training ground to find out what it was like to test myself and our equipment in a range of conditions that we will encounter in Antarctica; ice to deep snow, temperatures down to about -30C and slightly warmer (-10C) blizzards. I cycled a loop from Longyearbyen along Adventdalen and Sassendalen, up Rabot Glacier, then down Von Postbreen to Templefjorden and back.
Adventdalen is the main snow mobile route to the east coast. From our first campsite I cycled across the valley following some single snow mobile tracks until I eventually joined the main thoroughfare. For me it was all about getting a feel for the snow, trying to find some sort of rhythm and a work rate that I could maintain all day. I was keen to understand how much my experiences of cycling in the sand would transfer to the snow. I found that it was slightly easier to follow the single track rather than the virgin snow. The untouched snow had a crust that acted like a brake as my wheels broke through the surface. My experiences cycling in the sand had been the opposite to this. On the whole, biking in the snow and sand is similar in that it requires a huge amount of strength to stay upright and energy to deal with the constant resistance without respite.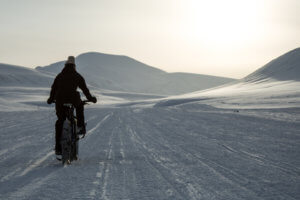 However the snow and energy-sapping cold I definitely found to be at another level. To cycle in these conditions for a few hours is all very well, but to go for days, weeks and up to two months is what I had to decide was a realistic venture.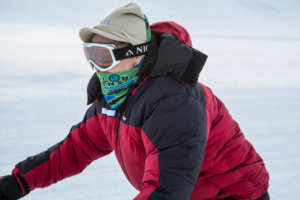 It was a constant battle to regulate my body temperature. I generated so much heat with the effort that even in the extreme cold it didn't take long to perspire. I was always zipping and unzipping vents on my clothing to try to control moisture loss without becoming too cold. Of course the moment I stopped any sweat would freeze. I tried various combinations of clothing but in the end I was best in a single layer of thermals, a fleece and Eric's blue shell suit when I was cycling. The moment I stopped and blood drained from my extremities I dived for the down jacket.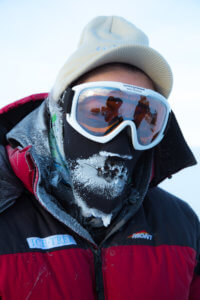 As it became colder, I had to remain almost constantly on the move – even the lunch breaks were very brief.
I moved along pretty well over the first day, covering around about 40km through what was for me a completely alien landscape – totally awe-inspiring and spectacular though. I had expected Spitsbergen to be mountainous, but the scale was much grander than I had imagined. Here I was the alien to the passing snow mobile riders. There were looks of intrigue, bewilderment and astonishment…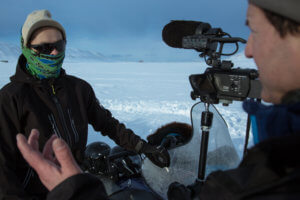 Many stopped or slowed up to take a snap shot, wave or simply stare. Even before I had returned to Longyearbyen people from one group we met said they had already seen pictures on FaceBook.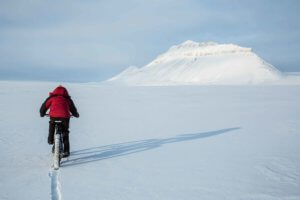 Turning off on to the lesser used route along Sassendalen towards the end of the first day, the going became much softer. I had quite a few tumbles off the bike where the snow drifts stopped me completely. The pace slowed from a steady 12 km an hour to a slow grind in the bottom range of gears. The best technique over the soft surfaces was to keep in a very low gear and spin with a faster cadence to try to float over the surface. When I hit a soft patch, being in a low gear gave me the best chance of powering out.
As the sun dipped behind the mountains, the temperature dropped rapidly and with it my energy levels. In the last half hour I pushed through a cold sweat which of course froze. It almost froze my nose off but I was totally unaware. I had been struggling to breathe through the buff and had left my nose exposed for too long. The tip of my nose turned totally white. Eric held the palm of his hand over it and gradually my nose regained some of its colour. Thankfully no long term damage was done and I learned another valuable lesson.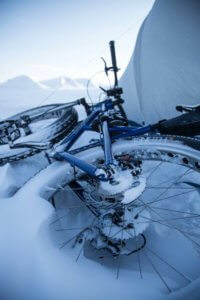 After my first full day of cycling I arrived as the team were setting up camp. Now we were in polar bear territory, Phil and Eric set up the trip wires around the tent designed to set off bangers to hopefully frighten a bear should one venture too close. Inside the tent, as soon as Eric lit the MSR stoves the micro-climate warmed significantly. It was certainly cosy camping with all four of us lying head to toe, but not uncomfortable.
I was quietly ecstatic. The four of us, with decades of experience, gelled together so well. Everyone has strong characters but we seemed to connect, recognise each others' strengths and be able to work together where needed. Everyone was respectful and willing to learn. There were no big egos, just a lot of great stories and enthusiasm exchanged. My only complaint was the symphony of snoring. I was always the last to sleep so I'll never know whether I chimed in, but the usual sequence was that Phil took about 30 seconds to fall asleep and start trumpeting. Then Claudio would join in chirping away with a hilarious cacophony of sounds (not easy to describe), and finally Eric, once his iPod had carried him away with the fairies, harmonised with the other two. I would lay there for a while, still on a high from a day of extreme activity, amused at all the sounds I could do nothing about, but really happy that this was working. So far, so good. I couldn't wait for the next challenge.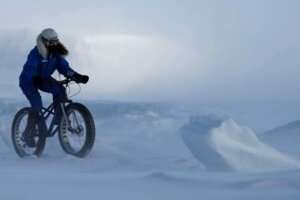 Here's a teaser video by Claudio von Planta…now great memories!
Testing the world's first All-Wheel-Drive Fatbike (built by Steve Christini) from Claudio von Planta on Vimeo.