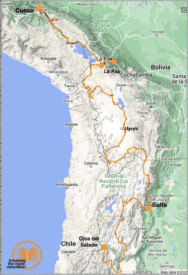 When: 1st-17th March 2020; 28th February – 21st April 2022
A 4400km altitude bicycle expedition from Cusco, Peru, across the Altiplano in Bolivia and Chile and the Argentinian Puna de Atacama to Ojos del Salado, the world's highest volcano.
Setting off from Cusco, Peru, once the capital of the mighty Incan Empire, Kate explored ancient ruins and engaged with local cultures as she pedalled through the southern Peruvian Highlands and across the Altiplano in Bolivia and Chile, before weaving a convoluted path over the Puna (plateau) de Atacama to finish on Ojos del Salado, the world's highest volcano at 6893 metres.
The story of the journey however, is more than an exploration of Kate's physical and mental limits and the positive mindset she must adopt to succeed. It is infused with insights about Andean cultures, past and present, focusing on what the mountains mean to the people. Kate investigates some of their beliefs, particularly those related to the mountains she explores, and the innovations and adaptations the Andeans have made to overcome their challenges and improve their lives.
Kate also wanted to find out whether there are lessons to be learnt from Incan and other Andean cultures that can be related to some of the issues confronting our global community today, such as climate change, sustainable consumption, gender equality and the need to preserve and work with our environment, not against it.
Adapting to a changing world
Kate began the expedition in February 2020, in the ancient Inca capital of Cusco, Peru, visiting Machu Picchu and cycling through the Sacred Valley, the Southern Peruvian Highlands and around Lake Titicaca into Bolivia. She continued through to La Paz and the South Yungas, including Death Road.
After 1106km, she was forced to postpone the expedition as the Covid-19 pandemic swept the world. Kate and her 2020 filmmaker Chris Pennington, with the courageous help of driver, Rolando Zarate, dramatically escaped Bolivia on the last commercial flight out of La Paz.
In 2022 Kate returned to La Paz to complete the journey. She teamed up with production company, A-OK Media House with the aim of producing another global TV series. Tobias Nash, a multitalented videographer, photographer and conservationist who is currently studying Psychology at University College London, also joined the team.
Watch the trailer for The Spirit of the Andes HERE
Find out more about the proposed TV series, The Spirit of the Andes by reading the Treatment HERE
Breaking the Cycle Education: Access the Andes/Altiplano/Atacama 2020 lessons HERE