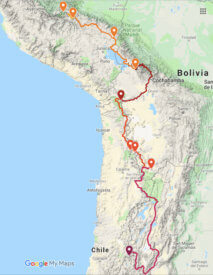 When: March/April 2020, 8 weeks
A 3500km journey at altitude, from Cusco, Peru, winding through the volcanoes of the Altiplano in Bolivia and Chile, continuing through the Argentinian Puna de Atacama region before finishing at Ojos del Salado which, at 6893m, is the world's highest volcano, Chile.
En route, Kate will attempt to climb several 5700m+ tracks that were built to service sulphur mines on several volcanoes including Acotango, Ollague or Aucanquilcha and Uturuncu. These tracks, that are in varying states of disrepair, are considered the highest cyclable or semi-cyclable tracks in the world.
Find out more from this generic brochure: The Andes and the Altiplano expedition brochure (wecompress.com)
Find out Kate's location:
https://maps.findmespot.com/Track?ishr=586ef552-c56d-448a-bd55-ab6900884bfb#panel-history