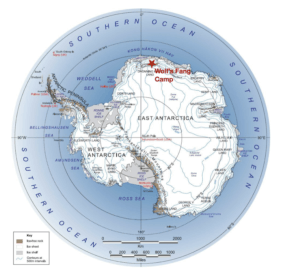 Cycling from Wolf's Fang Camp (1130m elevation) to Whichaway Camp (100m elevation) and back, a return journey of approximately 350km over 8 days.
This will not only be the best preparatory expedition for Breaking the Cycle South Pole, but also a credible project in its own right. This will be on the edge of what's possible. Due to the existence of several crevasse fields, Kate will cycle with the protection of a support vehicle, possibly tethered to it in the danger zones.
No one has ever done this journey by bike before and it completes Kate's project of doing one preparatory expedition for her Antarctic crossing on each continent.
Kate will film a series of rides for the virtual cycling app, FulGaz that will be used as part of the fundraising effort during the BTC South Pole expedition. (100K audience; 60K highly engaged members globally) The BTC Antarctica sponsor will also earn title rights for the FulGaz series.
The sustainable Antarctic luxury travel company, White Desert will be working with Kate. Expeditions such as Kate's are not its core business, but they have agreed to support the venture by reducing the rates overall and being responsible for logistics, health and safety.
Kate will be collecting climate data for another partner, 2DegreesC. White Desert is a carbon neutral company and Kate will ensure her expedition has no carbon cost to the environment.
Kate has not done a serious polar expedition since 2017 so BTC Antarctica will be an important opportunity to fine tune BTC South Pole logistics, test equipment and prepare mentally and physically. Even with her custom-made Christini all-wheel-drive fat bike, it is always a fine line as to whether she can cycle or have to push.
If conditions are not favourable for the outlined journey, Kate will adapt the plan depending on expert advice.