Breaking the Cycle – a world-first cycle expedition across Africa from Senegal to Somalia
In 2010 Kate completed her Breaking the Cycle expedition – a ten month 22,040km journey across Africa from Point des Almadies in Senegal to Cape Hafun in Puntland, Somalia.
Kate completed her ride on August 16th 2010, four days ahead of schedule. The ride is believed to be a world first achievement.
This journey was not only a physical quest, but an odyssey to highlight the development needs of war-torn and poverty-stricken nations. Cycling through 20 countries her aim was to find out what is being done to give a 'leg up' rather than a 'hand out' – to shine a positive light on the issues, cultures and geography of the often misnamed Dark Continent. What Kate discovered has changed her life forever.
Kate battled injury, exhaustion, the African authorities – as well as sand, mud, tsetse flies, extreme heat and mountains – to experience the real Africa. Diverting into the Sahara Desert, she met cultures with sophisticated written histories spanning a millennium. The libraries of Oualata (Mauritania) and Timbuktu (Mali) contain books more than five centuries old while thousands of manuscripts remain in private family vaults in the desert, revered as their most valuable possessions.
In the Sahel region, the shoreline of the Sahara, education levels, especially of girls are amongst the lowest in the world. Women are the cornerstones of their communities and educated women tend to have smaller, healthier families. Kate met with communities across the regions that are highly motivated to educate girls and empower women to improve their circumstances for the long term.
Cycling across Somalia to the finish involved high-level planning and cooperation with the Puntland and Somaliland governments. The first obstacle was the lawless 135km no man's land between the two Somali states, the second a vicious conflict between the Puntland government and Al Shabab extremists that erupted three days before I entered Puntland. Accompanied by the President of Puntland's Special Forces and two bulletproof vehicles containing government ministers, Kate took a secret route to avoid being detected by Al Shabab insurgents and Somali pirates to reach Cape Hafun.
Kate's journey continually revealed the truth of Africa, and its diverse people and cultures, in a way that could be only seen on a bicycle.
A feature film and book, both entitled Njinga, Breaking the Cycle in Africa, 22,000km, 20 countries, 299 days were released in September/October 2014. The film won Best Documentary, Best Cinematography and was runner-up for Best Director at the Action on Film International Film Festival in LA.
Watch the trailer: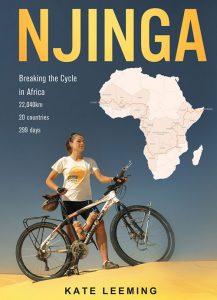 Buy a copy of Njinga, the story of the Breaking the Cycle in Africa expedition HERE
Check out more details from the website for the expedition: www.btcycle.com