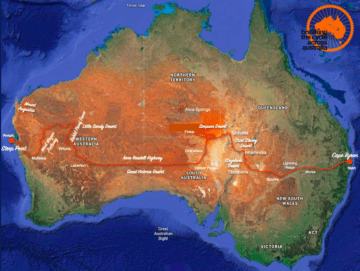 Out There and Back
In 2004-05 I completed the Great Australian Cycle Expedition (GRACE Expedition), a 25,000km journey through Australia, and published my first book, Out There and Back about my experiences and the very grounded perspective I gained from over the handlebars. While this was a comprehensive exploration of Australia, there is still much more to explore of this enormous continent by bike.
Since 2005 I have completed many more journeys, including the first west to east bicycle crossing of the African continent, Breaking the Cycle in Africa, from Senegal to Somalia. Then, on my quest to cycle across Antarctica via the South Pole, I have completed smaller expeditions on every continent (except Antarctica). Using a custom-made all-wheel drive fatbike, designed for pedalling over soft and rugged terrain (such as snow, sand and loose stones), has helped me to bend ideas of what's possible on a bicycle. It has enabled me to pedal where there are no roads at all, such as in the Arctic, down Namibia's entire coastline, (the Skeleton Coast) and following the course of central Australia's Finke River – all completely unique expeditions that had never been attempted before.
Back Out There – Breaking the Cycle Across Australia
Beginning at Cape Byron, (NSW) Australia's most easterly point, this 6000+km fatbike journey will take me across the continent's sunburnt interior to its most westerly tip, Steep Point, (WA). I will cross the tracks of several intrepid pioneers and explorers while coming face to face with the cultures and nature that survive in some of the world's most remote deserts.
Every journey changes me a little and I hope to be able to explore my country with new eyes, delving deeper into places not normally accessible by bicycle.
The Route
Start: 1st May 2021 (due to a broken collarbone on Day 17, expedition will restart on 27th July)
Time: 11 weeks (approximately)
Distance/week: 500km – 600km
Conditions: Approximately 1000km of bitumen roads, 2000km of gravel and tracks, 2000km of corrugations and gibber (small stones), 1000km of sand.
This will be new territory for me as I will only intersect my 2004 route three times – at the start, at Wiluna, and then Shark Bay near the finish. I will also connect with my Following the Finke River expedition at the town of Finke/Aputula, where I ended the 2018 ride, as I attempt to complete the final 235km of the course of the world's oldest river, the Finke or Larapinta.
Starting at Cape Byron, Australia's most easterly point, I will first cross the Great Dividing Range, continuing through the far north of NSW to Moree, Bourke and on to Tibooburra. I'll then follow the Old Strzlelecki and Birdsville tracks to Birdsville. Recent rains have caused the Simpson Desert and normally dry Finke River to flood, so I expect to see this land refreshed, teeming with wildlife and tinged with green new growth as I pedal through the region. From Dalhousie Springs I will head southwest to Oodnadatta and Coober Pedy, then due west through central South Australia along the 1300km-long, heavily corrugated Anne Beadell Highway to Laverton in Western Australia. From there it will be north to Wiluna, along a section of the Rabbit Proof Fence, through the Murchison region and eventually to Shark Bay and Steep Point.
During the expedition I aim to seed the journey with stories about sustainability, indigenous culture (knowledge mapping of the Simpson Desert), of past explorers and pioneering characters.
The Team
Following the success of Diamonds in the Sand (global TV series and feature film about the Skeleton Coast expedition), the aim is to film the journey to a high level.  The journey is supported so we can capture it effectively on video and stills, so I can run the education programme. Heading up the support are experienced outback specialists, Neil Cocks, Martin Bailey and Rick Hunter.
Education
Education partner Belouga will be transforming the content we produce during the journey – blogs and regular short videos – into a series of lessons. To find out more and to access the lessons (educators only), go to https://www.breakingthecycle.education/belouga/ 
Part 1 (Week 1)
Part 2