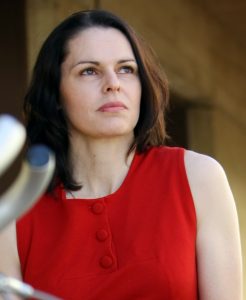 As an explorer/adventurer, Kate has cycled a distance greater than twice the world's circumference. On August 16th 2010 she became the first person in history to cycle an unbroken line from Africa's most westerly to its most easterly points; from Pointe des Almadies, Senegal to Cape Hafun, Puntland, Somalia.
Cycling 22,040 km over ten months, Kate's Breaking the Cycle in Africa Expedition was not only a physical quest but an odyssey to highlight the development needs and activities of war-torn and poverty-stricken nations.
Cycling through twenty countries, Kate aimed to find out what is being done to give a 'leg up' rather than a 'hand out' – to shine a positive light on the issues, cultures and geography of Africa.
In June 2019, Kate completed another original expedition when she became the first person to cycle the entire Namibian coastline, a 1621km sand cycling expedition from the mouth of the Kunene River on the Angolan border, along the Skeleton Coast and the Namib Desert to the Orange River mouth on the South African border.
Kate has two earlier world firsts under her belt – the Trans-Siberian Cycle Expedition (1993) when she became the first woman to cycle across the new Russia unsupported (aiding the children of Chernobyl), and the 25,000km Great Australian Cycle Expedition (2004/05) which included the first bicycle crossing of the Canning Stock Route by a woman.
Kate's latest challenge, Breaking the Cycle South Pole, will result in the first bicycle crossing of the Antarctic continent via the South Pole (2023). To prepare, polar expeditions have been completed in Svalbard (Arctic Norway), Northeast Greenland and Arctic Canada and since 2018, a preparatory expedition in either polar conditions, on sand or at altitude has been performed on each continent. These include: the Baja Divide in Mexico, Iceland, the Finke River in Australia, the Indian Himalaya, Namibia's Skeleton Coast, the Andes, the Altiplano & the Atacama in South America and Queen Maud Land, Antarctica.
Breaking the Cycle education aims to help prepare our future leaders to make informed decisions to create a better world. Students across the globe can follow Kate's preparatory activities and Antarctic expedition and partake in the Breaking the Cycle Education learning modules and lessons with the end goals of creating their own projects.
On 26th January 2023, Kate was awarded a Medal of the Order of Australia (OAM) for services to adventure sport. In March 2016, The University of Western Australia awarded Kate an Honorary Doctor of Education degree for services to education and community. She is a Fellow of the Royal Geographic Society (UK), a member of The Explorers Club (New York), an Honorary Advisor for the Duke of Edinburgh's International Award and a Scout Ambassador. Kate's Australian and African expeditions were Official Activities for the United Nations Decade of Education for Sustainable Development (UNESCO).
In 2014, Kate's documentary 'Njinga' won two awards at the Action on Film International Film Festival in Los Angeles – best cinematography and best documentary (sport). 'Njinga', Kate's second book, complements the documentary; her first, Out There and Back, chronicles the Australian expedition. Kate's latest production, a 4-part TV series about the Namibian expedition, Diamonds in the Sand, has been broadcast around the world (eg – National Geographic Asia, CNBC, Outside TV) and received more than 25 million views.
In between expeditions, Kate works as a real tennis professional. She has won 5 Australian Open singles and 6 doubles titles and been ranked as high as world number 2 woman.

Australian Open Doubles 2019
Kate grew up with her two sisters and two brothers on a wheat and sheep farm near Northam in Western Australia, about 130km east northeast of Perth. After attending Northam Primary School, she boarded at Perth College during her secondary schooling and went on to study for a Bachelor of Physical Education and Graduate Diploma of Education at The University of Western Australia before beginning her travels.  After spending 11 years living in the UK and France, Kate returned to Australia, this time to Melbourne where she now lives, working part time as a senior professional at the Royal Melbourne Tennis Club.