This will be the second of the series of preparatory expeditions for my Antarctic crossing, planned for the end of this year.
I am drafting this on the three-day car ferry from Denmark to Iceland, which is currently docked in Torshavn, Faroe Islands! With me is Mike Brailey and his son, Tristan, who will be both providing vehicle support and capturing the story as it unfolds, particularly for Mike's magazine, Overland Journal Europe.
After completing the Baja ride, Chris returned to Melbourne and I travelled from San Diego, in the far south west corner of the US, to Portland, Maine, in the extreme north east corner, to collect my new 4th generation all-wheel drive fat bike. This is the one I plan to use in Antarctica.
The bike was again custom-built by Philadelphia-based Steve Christini and sent to the team at Carver Bikes at Bath Cycle and Ski, Woolwich, Maine (about 50km north of the capital, Portland). As with each bike Steve has made, he has improved on the last. This time he has built an even stronger, industrial strength universal joint into the all-wheel drive shaft. He's altered a few of the angles, such as that of the head tube, to make it an impressively agile beast. It may look like a bit of a tractor of a bee with it's 5.05" wide rear tyre and enormous bulk, but it can turn on a dime (as they say there) and is extremely light.
Zach Pilgrim, who has assembled three of my four Christini bikes, worked solidly on the build from the moment he received the frame the day before. He was extremely well organised having ordered in all the parts well in advance. This time, he hasn't skimped on the components – the unit is as light, strong and durable as it can possibly be; SRAM Eagle GX drive train, Carver's impressive 105mm wide carbon rims…for all those interested in the details of these components, I have listed them in the gear sub-section at https://www.breakingthecycle.education/expeditions/iceland-traverse/.
Having the widest and one of the lightest sets of rims available enables me to have maximum flotation (footprint) over the soft surfaces. Steve is still finishing off a new front fork that will enable the bike to accept the 5.05" wide tyre on the front now, so when that arrives I will have the widest tyres and maximal flotation currently available, on front and back. This feature, along with the AWD system, are the keys that will give me the best chance of staying on the bike for longer over the soft surfaces, and ultimately, the ride across Antarctica.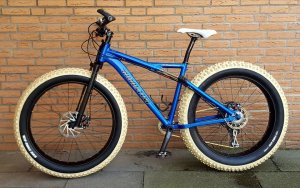 After a full day of hanging around the shop (I love this place – not high pressure, but full of character everywhere you look), I bid farewell to Zach, Jesse and my hosts, Al and Darcy Starratt (whom I first stayed with in 2013!), and took a two hour bus trip to Logan Airport, Boston. I just managed to stay ahead of a pending storm which saw several flights cancelled out of Boston that evening.
From there, I flew to London and on to Dusseldorf where I was met by Mike and Tristan. Then a quick turn around in Cologne, shopping for supplies and reorganising everything for the next chapter, starting with a 1000km drive to the ferry terminal at Hirtshals near the most northerly tip of Denmark.