Page 201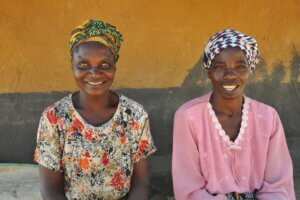 Muna and Irene, project coordinators, then took us to meet Jennifer, a healthcare worker who qualified to receive her bike during the RAPIDS initiative. Like Evelyn's mother, Jennifer already led a full life let alone volunteering to care for twenty-eight people on a regular basis. She received her training, which included a basic medical kit and counselling instruction, back in 2006. Carers like Jennifer are their community's first port of call if someone needs help. If more serious medical attention was required, she referred them to a hospital. The bicycle had increased her productivity immensely. Because of it, Jennifer was able to attend more patients more often than if she was on foot, and able to give more quality time.
Jennifer didn't need her bicycle to care for her nearest patient, Emma, who lived next door. On meeting Emma and sitting with her on the woven mat she had laid out for us, I couldn't really tell what was wrong. She looked to be in reasonable health, strong and in good spirits. The only clue to her problems lay in the dark circles that emphasised her deep-set, sunken eyes. Muna explained in local Nyanja language what I was doing and that I had ridden my bicycle, njinga, all the way from Senegal. 'Uh,' Emma interrupted, causing Muna to pause, 'Njinga…Senegal?' Her reaction of amazement was priceless. She held a wide-eyed stare for a second or two and then looked me up and down. 'Don't you get pains in your legs? Backside? Head?' I barely needed Muna's translation skills to communicate. Emma was so animated and we developed an instant bond. 'Njinga,' she repeated, shaking her head.
I didn't want to spoil the moment or make her feel uncomfortable so I didn't like to directly ask why Emma needed a carer. Irene explained that Emma had nearly died of AIDS. Unable to eat because of the sores on her throat, she was at death's door when they took her to be diagnosed and receive treatment. Emma's tone instantly transformed to sombre when she recalled her pain and suffering as the disease advanced. She was a single mother with five children: who was going to care for them when she was gone? She had given up all hope of improvement but now, through taking the right anti-retroviral (ARV) medication, her life had been transformed. Her appetite had returned and she craved the best foods – T-bone steak, fresh vegetables, cakes – life was too short to be content with second best. Having stared death in the face, Emma was ecstatic about her new lease of life. She was productive once more, able to contribute to her family and community. She even had the strength to work in the fields. And in response to hearing about where I was heading after Zambia on my njinga, she joked that she would soon be fit enough to cycle with me. Emma would definitely be with me in spirit.