Blog 19
Breaking the Cycle Skeleton Coast
Total distance cycled – 1621km, 32 days (26 cycling days)
Progress post-expedition
Since returning to Melbourne about six weeks ago, I have been trying to put into perspective what has been achieved in Namibia and quietly working away to create the best pathways to share the story.
Kas has also been hard at work going through and logging all the footage. Before heading off on another much shorter assignment for No Roads Expeditions in Papua New Guinea, he managed to cut a fantastic teaser video. This teaser has been very effective and while Kas has been away I have found the base funding to produce a feature documentary.
Electrification of Purros village with solar energy – be a part of this exciting, life-changing project
Part 2 of the Namibian project, to electrify Purros village in Namibia's remote northwest with solar power, has been postponed until approximately April 2020. It will be a big job to install micro-grids in 118 small houses. Partners, Global Himalayan Expeditions, hope to secure the base funding in the next couple of months.
We are looking for 20 participants to join us for this expedition, to help install the micro-grids (no technical skills required) and enjoy a fantastic adventure – engaging with different cultures, tracking rhinos and elephants, visiting a prehistoric site and seeing some of the Skeleton Coast…similar to the images on the first two pages of my Flickr account (at the bottom of this Skeleton Coast page) and on this blog: https://www.breakingthecycle.education/blog/twyfelfontein-purros/
This will be GHE's 100th village solar electrification expedition and its first outside the Himalayas. To find out more about what they have been doing, go to https://www.ghe.co.in/Traveler-Blogs/12?GHE-Ralakung–Story-for-the-Ages/ or contact me for any further details and to register your interest in joining our ground-breaking project.
New products tested
The expedition was an opportunity to trial some new products with Breaking the Cycle South Pole and other expeditions in mind.
Absolute360
Far infrared (FIR) therapy involves the use of far infrared rays to gently heal, soothe, stimulate and detox the body. The next-to-skin clothing facilitates the recycling of your own energy to stimulate cell microcirculation, boosting performance, recovery and wellbeing. Backing up my extreme workload day after day, especially as I get older, is a big challenge. I was keen to try some Absolute360 garments to assist with recovery and I believe that it really made a difference. In fact, I have continued to wear the base layer products post-expedition to help me readjust to a 'normal' daily workload, always an issue when I come off an expedition.
There are numerous benefits of wearing FIR infrared clothing; increased circulation, a 20% improvement in tissue oxygen levels, pain relief and increased cellular metabolism and energy production. I am keen to see how it could help my body thermoregulation in the extreme cold, something I need to improve. To find out more go to https://www.absolute360.co.uk/
Melrose MCT (medium-chain triglycerides) coconut oil
MCTs, made from coconut oil, isn't digested and absorbed in the same way as normal dietary fats, instead, they are easily digested and processed in the liver, providing immediate fuel rather than being stored as fat in the body. I wanted to try the product to see if it would help to deliver me a more consistent supply of energy over 7-8 hours of hard work each day. I did eat very well during the expedition but I noticed, in relation to previous expeditions, that I experienced fewer 'energy bonks'. I definitely want to take this product to Antarctica – it's an efficient energy form that will also keep my metabolism higher and me warmer with more energy for longer. There are many other benefits to regularly taking MCT oil. Find out more: https://www.melrosehealth.com.au/ins-and-outs-of-products/items/melrose-mct
Insta360 ONE X
My little Insta360 ONE X 360 degree camera with 5.7K resolution was very handy as we could attach it to the bike to capture every angle. We think, when we are making the documentaries, that it will enable viewers to feel like they are really there. The sound quality seems surprisingly good, especially considering I was pushing into extreme winds for much of the time. Once Kas has a chance to watch and convert it all, I think it will really enhance the content we already have.
https://www.insta360.com/product/insta360-onex
Christini All-Wheel Drive Fatbike
The bike I used was not new. It was first tested in Greenland and then down the very rough, sandy Finke River in central Australia before the Skeleton Coast. I was slightly worried about how it would last for 1600km of mostly wet sand, saltwater and spray and the generally wild conditions, some of the most corrosive to machinery in the world. I knew it would be an extreme test for the bike.
I was careful to brush and lube the drive train and AWD system often twice a day using Bike Mechanic Bike Milk. When on a reasonably firm surface, I switched the AWD off. As a result, I was pleased that the working parts remained in credible working order all the way to the Orange River mouth. The main issues were a rubber seal perishing and rust on the universal joint. The extra grip was most beneficial when crossing the high sand dunes and softer surfaces…the technology is well-justified in the most testing conditions. I must be one of Steve Christini's most appreciative fans!
I am also a fan of the Vee Tire Company's PSC (Pure Silica Compound) tyres for my purposes. The compound is quite soft and is designed to shed snow. I like the grip, feel and look of the white tyres, but I was slightly worried whether they would last the full distance, especially once I had to take the gravel roads, but there were no issues with durability for 1600km. https://christinibicycles.com/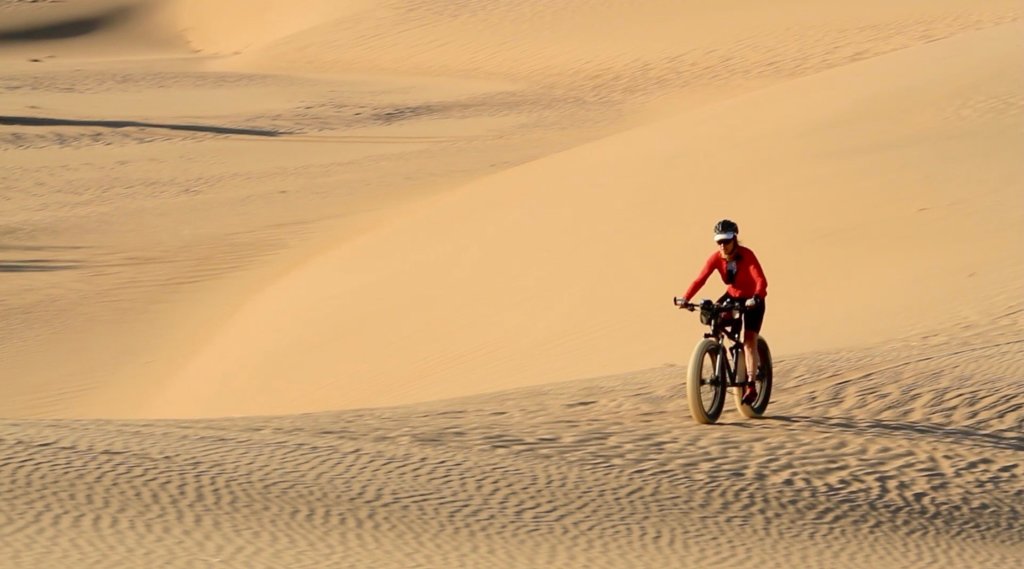 Big Thankyou(s)
I cannot sign off on the Skeleton Coast expedition blogs without thanking all of my generous sponsors listed below, in particular, Restons and Karibu Safari the principal sponsors without whom I would not have made it to the start line.
Special mention must be made of the Ministry for Environment and Tourism, Namdeb, the Ministry for Mines and Energy and the villagers of Purros for their parts in granting the permits to enable unprecedented access for the team to travel the entire Namibian coast in a continuous line, thus giving me an opportunity to create a world first.
Finally, thank you to the great team; Kas, Jimmy, Cintia, Elago, Thomas, John, Simon and Elvis! Thanks also to Matt and Wendy Napier for putting Kas and me up in Swakopmund, and to Vera Leech and Avril van Zyl for organising the school visits in Swakopmund and Windhoek.