Blog 3
6th – 8th March
Acotango Climb, Sajama
6th – 8th March
Day 7 we set aside for catching up on everything and organising our border crossing into Chile. Prior to starting the expedition, Rolando and I had done a lot of research to find out whether it would be possible to cross; I had to obtain a Chile visa and we all had to get "Mobility Passes" proving we are triple vaccinated. I knew only five land border crossings were completely open, but Rolando had found out that, while he couldn't get permission to cross with his vehicle, the three of us could do so on foot. I had then arranged to hire a car in Iquique and for Javier, the Peruvian filmmaker who was to join us in Chile, to fly early to Iquique to then drive almost 600km to the border to meet the team. The logistics were very complicated but I thought we had a solution. 
We drove to the border village, Tambo Quemado, to check that we would be able to cross on the 8th, but unfortunately we were not granted permission. They said we might have a chance if we approached the Chile consulate in La Paz with a presentation explaining what we were doing and why, and the benefits for Chile. This I prepared and Rolando's sister in La Paz presented the document the next day.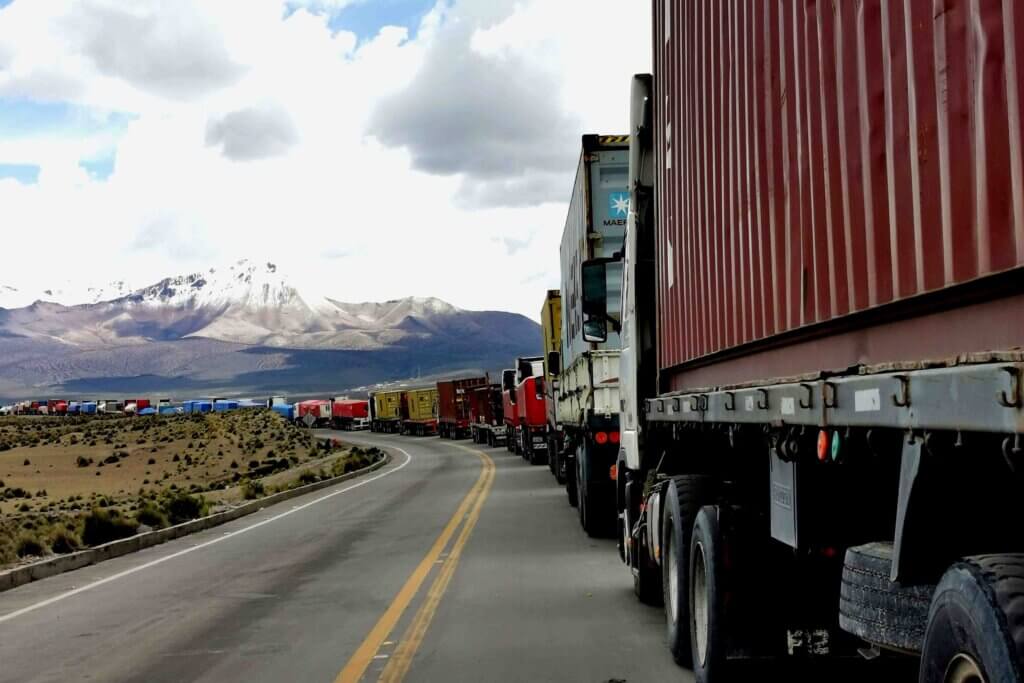 Acotango and the Cholitas Escaladoras
The purpose of this expedition is not only to cycle 5000km through Peru, Bolivia, Chile and Argentina, it is also to explore the cultures of the regions, and particularly find out what the mountains mean to the people, past and present. One of the landmark stories I set up was to meet and involve a founding member of the now renowned Cholitas Escaladoras, Elena Quispe. We first met Elena and her husband and mountain guide, Carlos in El Alto (La Paz) to sort out logistics. While there we were invited to Carlos's village, Taypi Ayco on Day 2 to celebrate the annual Festival. (See Blog 2)
On the afternoon of Day 7, Elena and Carlos met us at Sajama. Our plan was to make a traditional offering to the mountain we were about the climb, Acotango. Indigenous climbers always need to make an offering to Pachamama, the mountain God of Fertility, to ask for safe passage and success.
Elena and Carlos brought all the ingredients for the offering with them. We drove to a sheltered spot just below the base camp for Elena to perform the rituals. Carlos and Elena made a pyre and placed on top a platter of objects to be offered. Elena led the proceedings and included me in it. Nothing seems to happen without alcohol in these ceremonies (Pachamama likes alcohol, apparently). After the prayers, Elena and I in turn sprinkled 100% proof alcohol as an accelerant over the pyre, encircling in an anti-clockwise direction, followed by a small sip of the 'rocket fuel' It was enough to clear my lingering cold, at least for a short time! The fire was lit and we watched it burn.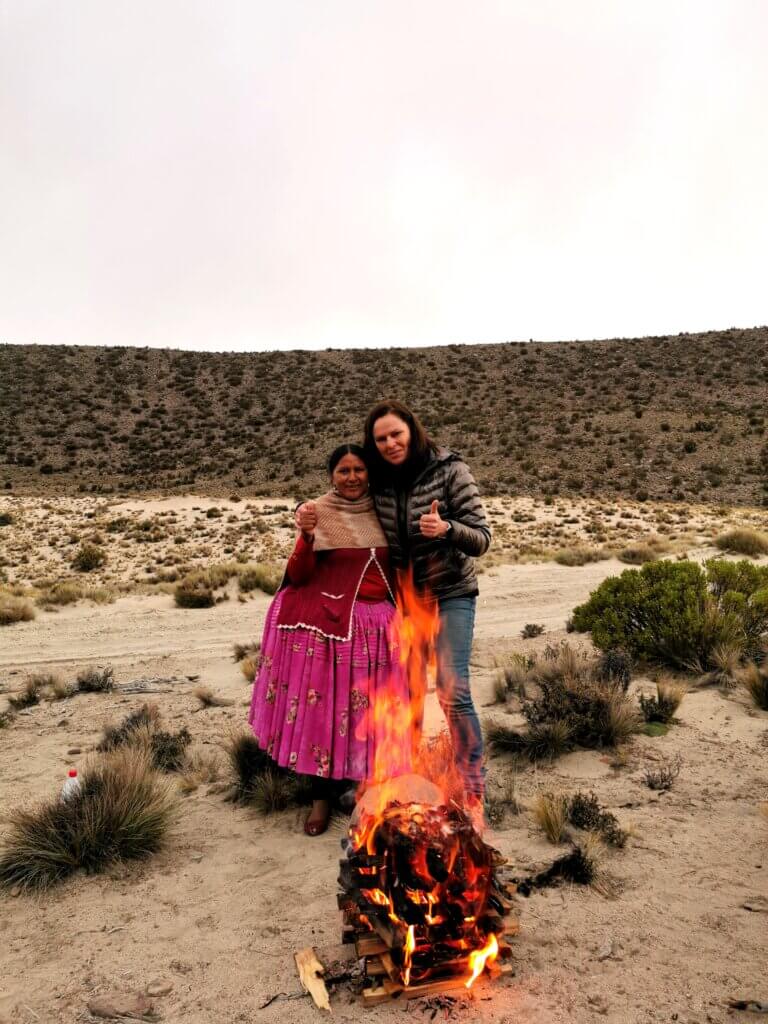 Ceremony done, we drove for about an hour back to Sajama to prepare for the climb.
The Climb
The Cholitas Escaladoras are a group of indigenous Bolivian women, the most socially disadvantaged group in this developing country. They banded together in 2015 to climb 6000m+ mountains in traditional dress to inspire Bolivian indigenous women, and by extension women worldwide, and show them what they can really do. They have a particular stance on violence against women. My vision was to climb with Elena to celebrate International Women's Day.
Acotango is a non-technical 6052m climb and as a team of inexperienced mountain climbers, I thought this would be achievable. We had breakfast at 3am and drove to the foot of the climb. There is a sulphur mine on the mountain and they now have a track as far as 5700m, however snow blocked the road at 5200m. This meant we would have a much longer climb than I originally planned for – an estimated 10 hour round trek. 
We began in the dark and watched the magnificent sunrise as we ascended, Carlos and Elena leading the way. They were like mountain goats, nimble and totally unaffected by the altitude. Pretty quickly we decided to slip on our crampons, which made climbing much more efficient – no slippage. Reza and Toby were carrying their cameras as well and stopping to capture the amazing scenery. Toby was still suffering badly from diarrhoea but soldiered on admirably – he showed true grit, never giving up.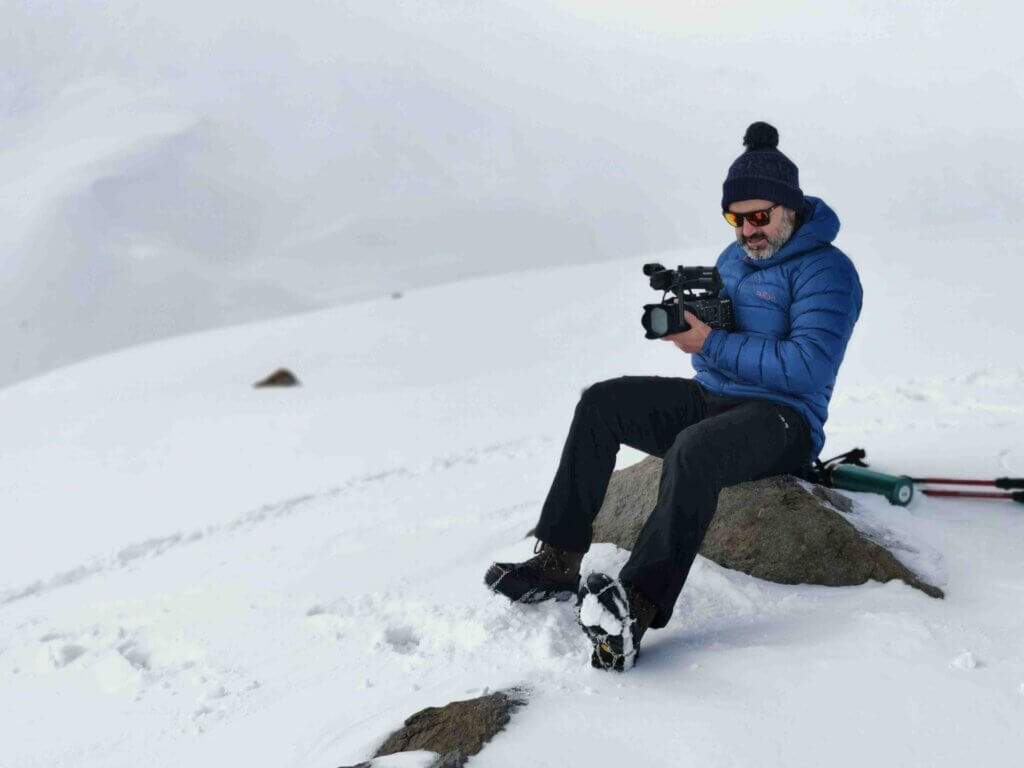 At some of our stops, Elena would break into dance, proudly twirling her skirt, accompanied by a tune Carlos would play from his phone. She also enjoyed sketching images in the snow with her walking pole.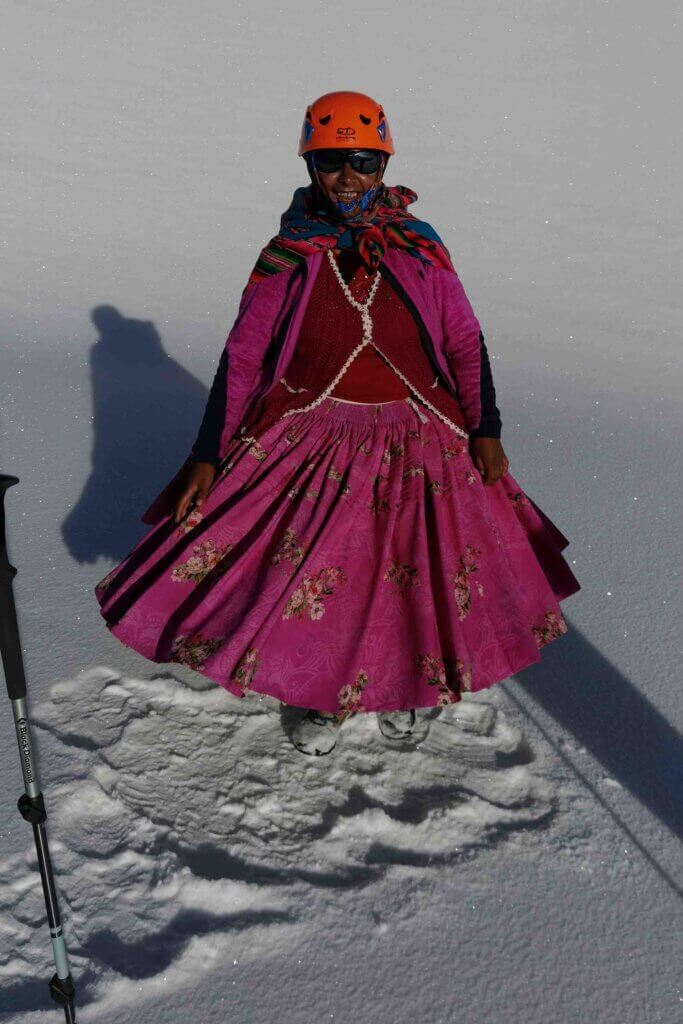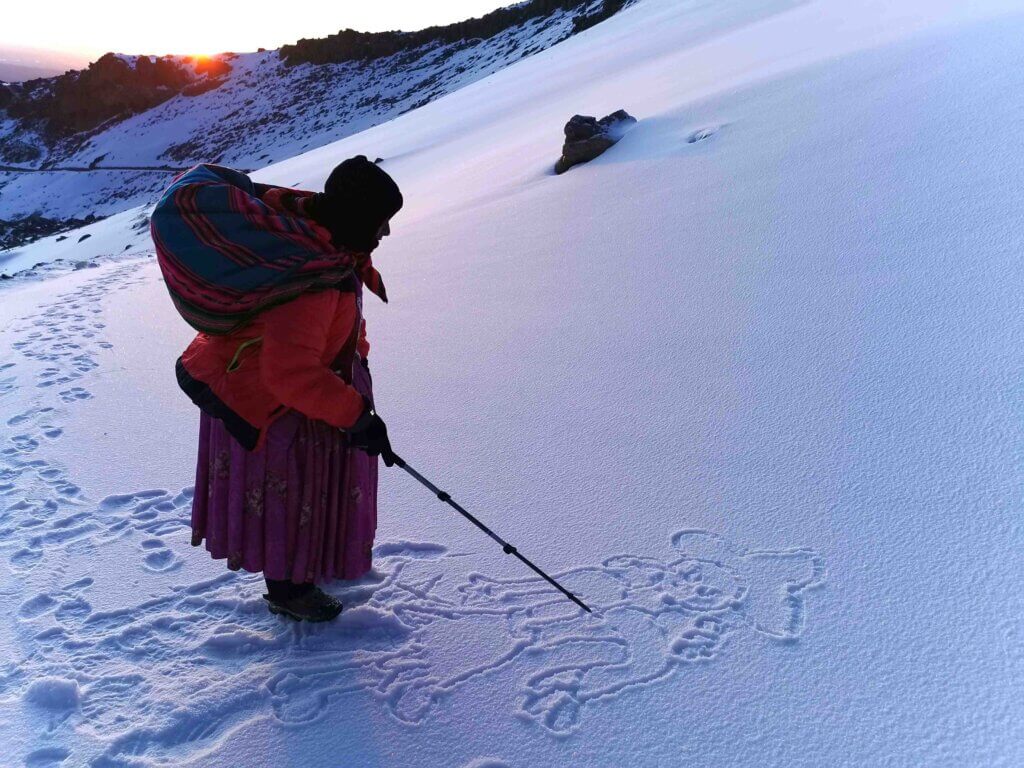 At around 5700m, we needed to climb a face with a 45% gradient to get to the ridge. The ice beneath the snow had started fracturing and was cracking underfoot. To ascend the steep slope, we needed to adopt a zig-zag path. As we crossed the face of the slope, the ice clearly was not holding our body weight. Analysing the conditions, Carlos said if we continued, there was a very real risk on an avalanche – something he'd had experience of before.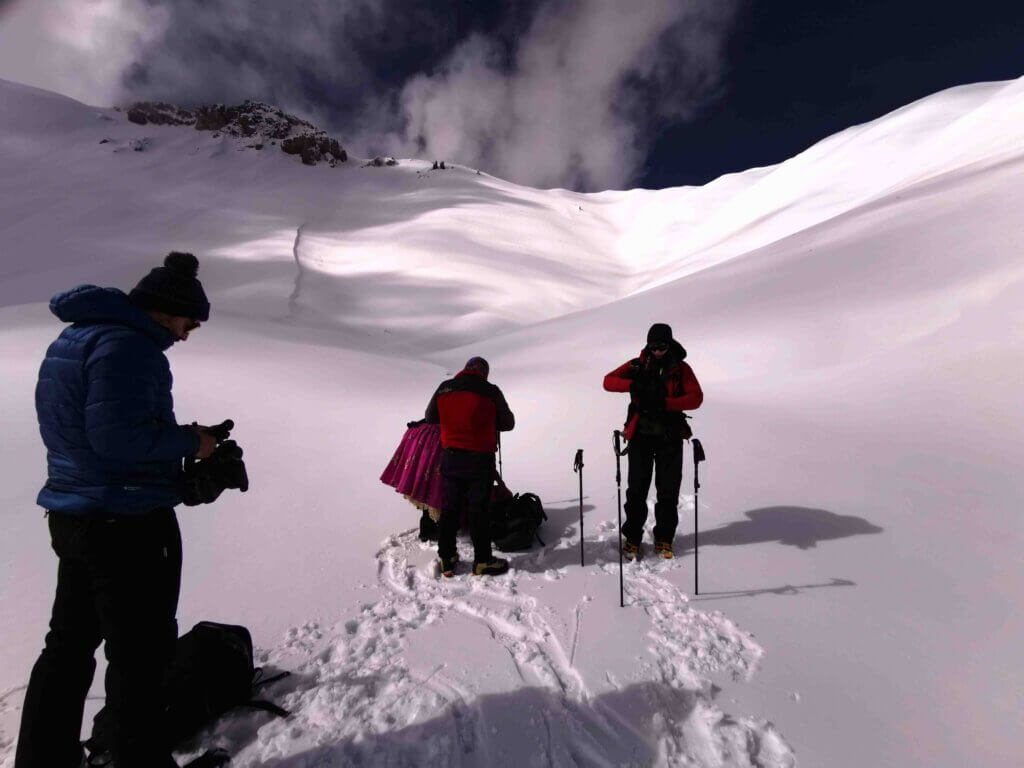 Reluctantly, at 5728m, we we conceded to go down. It's not what we wanted, especially considering the significance of what we aimed to do. Still, as Shackleton once said on aborting his first attempt to walk to the South Pole, "Better a live donkey than a dead lion".
It was a wise choice to abort. As we descended, the snow was melting fast. Our feet were sinking deep into the slushy snow with every step, sometimes to thigh depth. It was a real struggle to get back to where we started at 5200m. If we'd climbed to the summit, we may not have got back to our base.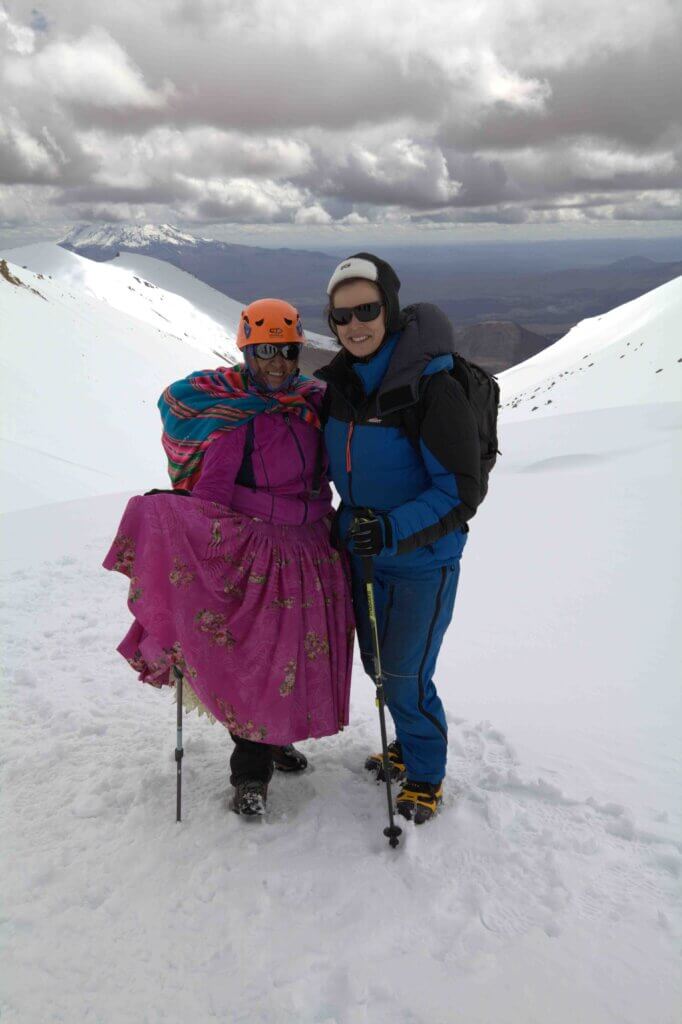 Even though we did not summit Acotango, the experience was definitely worth it. It was still a great way to celebrate International Women's Day. We made a sensible decision and live to attempt other climbs later in the expedition.
Another success story for me was that my badly damaged right knee survived. I have no problem ascending, but descending is always my biggest fear. Descending Mount Cameroon (4100m) in 2010, my knee was so swollen, I couldn't turn a full pedal revolution on the bike. I said never again, I can't risk it. Then in 2018, I was in a similar situation trekking to Ralakung village in the Indian Himalayas. I said, never again! This time I wore an Ossur "Unloading knee brace" to keep my femur and tibia from grinding – and it really worked! Very pleased.
Descending the mountain, Rolando was waiting patiently for us. We drove to Tambo Quemado on the border and said our goodbyes to Elena and Carlos. There we also had word from Rolando's sister, who had presented my proposal in person at the Chilean consulate in La Paz. Unfortunately we could not get permission to cross into Chile.