Blog 8
Day 7
25 May
Mowe Bay – Rest
The day off the bike at Mowe Bay turned out to be incredibly interesting. Before the fog had cleared, two brown hyaenas were spotted around the settlement. Of course, we were up immediately to get a closer look. Brown hyaenas are not aggressive, but we were told it is always preferable to look 'big'. In a crouched position they may think it possible to take you.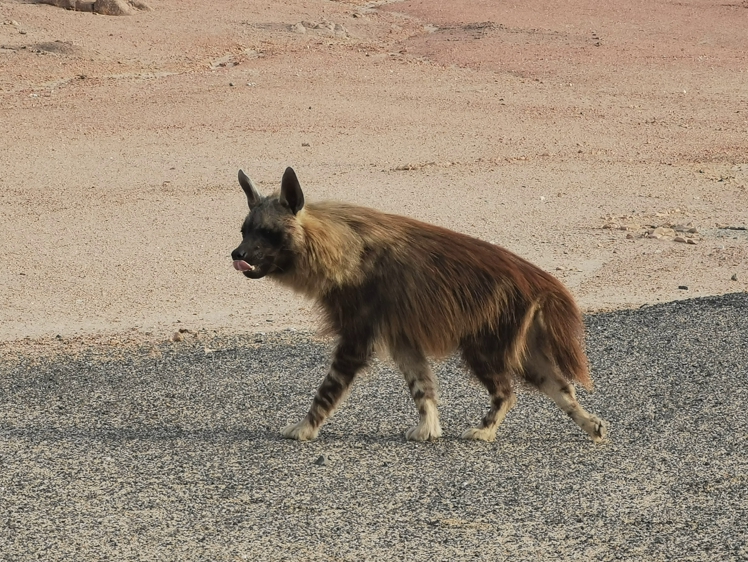 Kas, Elago and I followed on foot and then in the vehicle. Later in the afternoon, we met Emsie Verway who was in Mowe Bay researching as a part of her longitudinal study of brown hyaenas, intriguing animals, she says that are often misunderstood. The two hyaenas we saw were young males, about two years old. Emsie likes to call them her Golden Boys because of their beautiful golden manes. I have always that when 'God made hyaenas', He seemed to have cobbled together a whole lot of body parts that were left over from creating other animals…it's powerful, striped front legs are about twice the length its back legs, so it looks tucked up as it runs.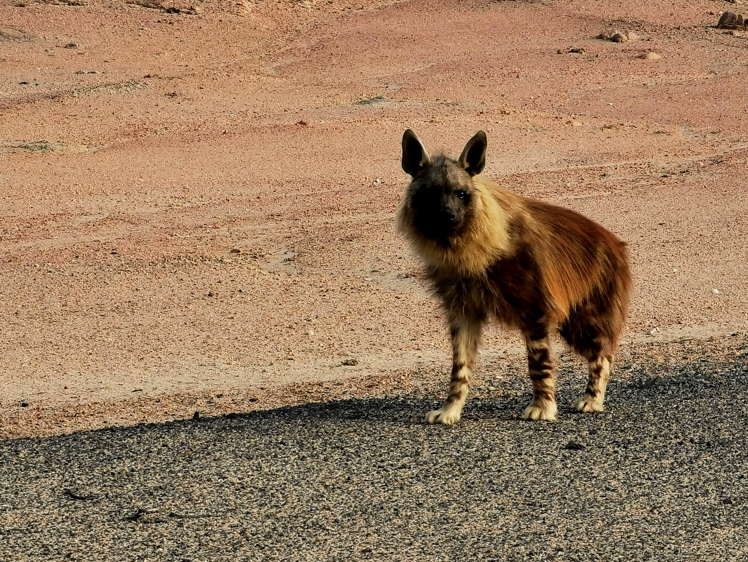 Here I was able to admire at close quarters how beautiful the animals are in their own way; soft long flowing brown coat, golden mane, striped legs. We had the privilege of watching the young bucks play fighting.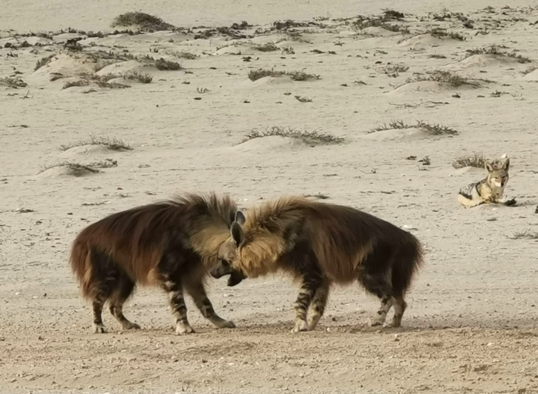 They seemed pretty relaxed and not worried about us. When Kas crouched down to film the pair, however, one started to consider whether it was possible to attack. Elago was behind, standing as tall as possible.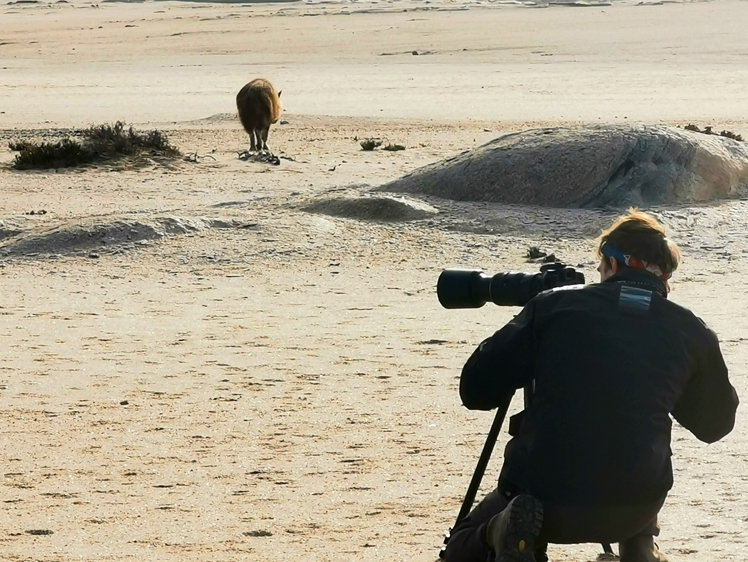 There was a small museum at Mowe Bay, crammed with dusty relics of items washed up from the sea – pieces of shipwrecks, bones of all sorts of animals and even a human skull. Apparently it was the skull of a German colonist who must have been taken by the sea.
Later that afternoon Kas and I visited Philip Stander's place, a few hundred metres away from the main settlement. Philip is the pre-eminent expert and conservationist for the desert-adapted lions. Philip has been based around Mowe Bay for 35 years, though until recently he lived out of his vehicle, continuously tracking and studying the threatened species. In January he moved into his new house. Philip has made several award-winning films and written a beautiful book called "Vanishing Kings".
Philip was very easy going and friendly. He didn't hesitate when I asked if we could interview him. Philip endeavours to learn as much about the desert-adapted lions as possible – movements, diet, behaviour, adaptations – in order to put actions in place to ensure its survival. Desert lions have the same genealogy as other lions however that have learned to thrive in arid areas. Desert lions do not need to drink, they can get all the hydration they need from the blood of their prey. They tend to be slightly taller. In order to find enough food, they have to roam farther than savannah lions and they can cover greater distances. Philip says that in recent times, the lions are depending more and more on marine food sources, even entering the water to hunt.
The biggest issue the lions face is the conflict with humans. Communities inland from the coast, are dependent on grazing their livestock to make a living. When a lion encroaches on their land and takes livestock, the communities will not hesitate to defend their existence and shoot the lion. Philip says there are between 130 and 150 lions left. His role is to protect the lions by finding solutions to prevent such conflicts. His book and films bring awareness about these majestic animals.
Namibia is just about the only country in Africa where its endemic species can roam freely, without borders. Just about everywhere else, animals need to be protected in game parks. It is the only country where the endangered black rhino is increasing in number.
We checked over the tracking maps of lions in the area I need to cycle through over the next couple of days. Philip offered to travel with us to ensure my safety.
Day 8
26 May
Mowe Bay to Terrace Bay
80km
In order to be protected from potential encounters with the desert-adapted lions, I needed to keep to the road. South of Mowe Bay there is a made road, still rough, sandy and corrugated, but I could cycle much faster over the varying surfaces.
Philip had been tracking two young lionesses and knew that they were roaming around the Hoanib River about 20km south of Mowe Bay. He set off ahead of us to locate them. After about 10km, we came across a two-day-old set of tracks belonging to the lionesses.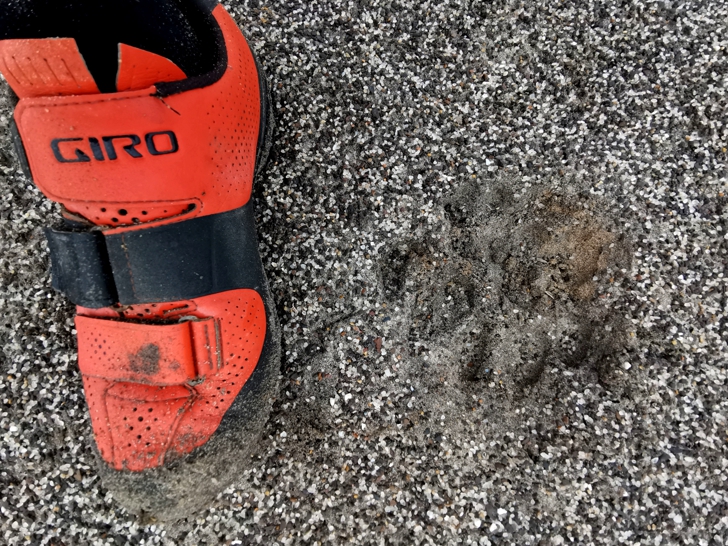 When we reached the northern bank of the ephemeral Hoanib River, I first had to lead the vehicles through a narrow crossing, but then I rode sandwiched between Elago's and Thomas's vehicles to ensure my protection for several kilometres. After 26km Philip was waiting for us to say that the lionesses had moved away and we would be safe for the rest of the day.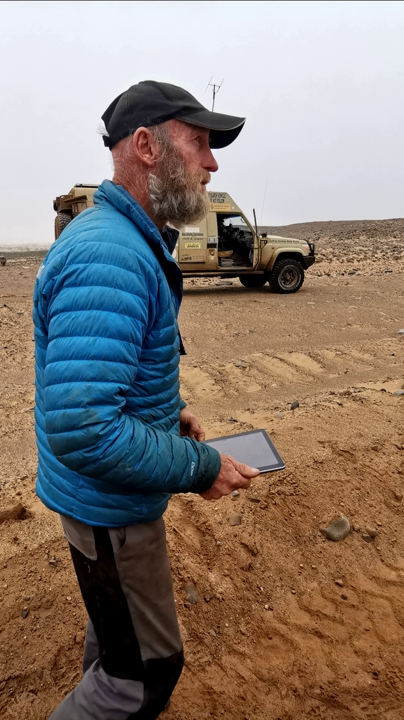 About half way to Terrace Bay, the first mechanical issue with my bike. The tension spring in my front brake snapped. Once I found out what it was, Thomas took control and installed a new pair of brake pads. This environment is extremely corrosive and I expect more issues will occur before the journey is done. I am careful to attend to the working parts every night, brushing off the sand and applying dry lube. Iron-based parts, particularly the chain is vulnerable to rust.
I managed the 80km to Terrace Bay in good time and we were permitted to camp at the airstrip in the empty aircraft hangar. Terrace Bay has a lodge, small shop, a restaurant and a few houses.
Day 9
27 May
Terrace Bay to Torra Bay
52km
Total Distance – 414km
Today was a relatively short day, but the biggest threat loomed at the Uniab River crossing about 30km south of Terrace Bay. Philip had been tracking an older lioness with two cubs. She fitted with a radio collar. Her last position was right near the road in the reedy riverbed. As before, Philip went ahead to locate her and was waiting for us on the northern side of the crossing. She was still close to the road.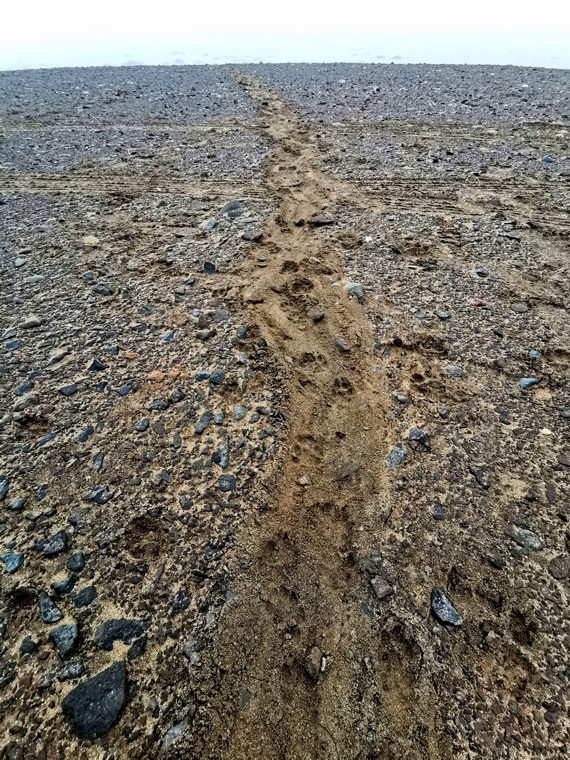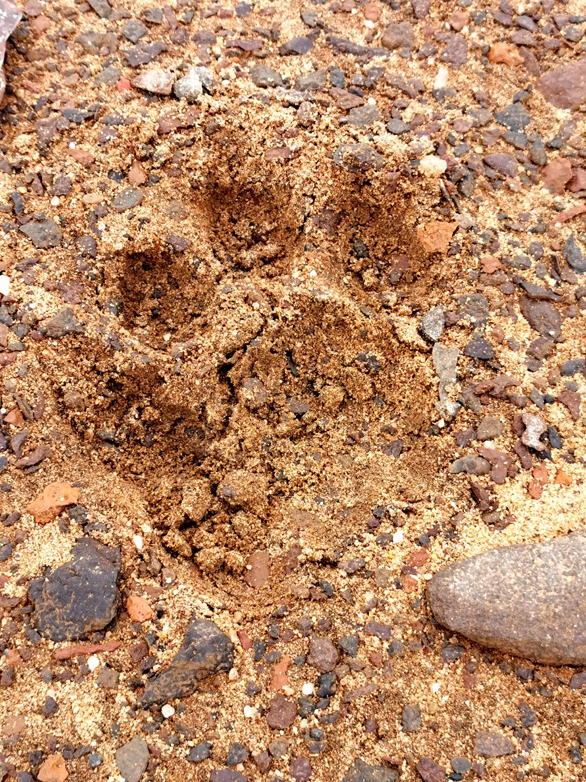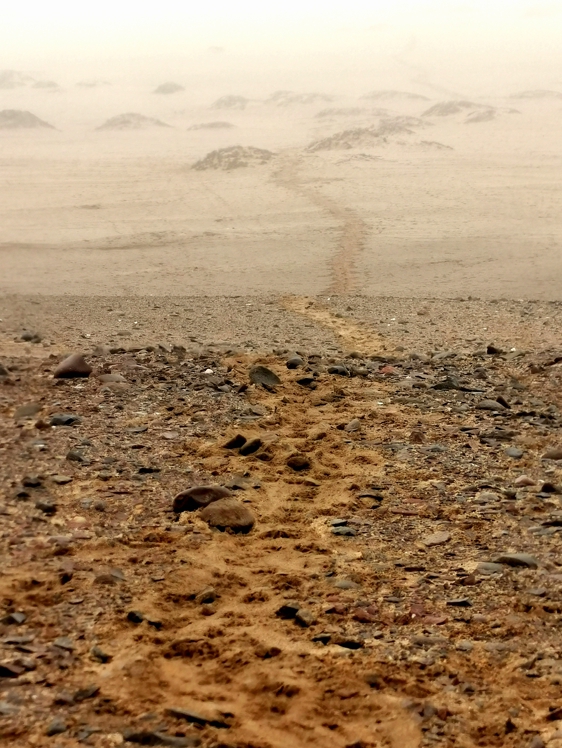 Initially Philip suggested that I put the bike on the vehicle for this 4km section, but then we decided that he should go ahead and stay on the road near to her to keep watch. Then, as yesterday, but in tighter formation, I rode between the two vehicles, keeping a steady pace. I must say, I was pretty tense, but I trusted the expert's judgement.
There were no issues and I was able to ease up after 4km. Philip checked two further bushy sites that could easily have harboured a lion, but all was clear. After that he said I was totally safe to continue.
I was very fortunate to have the best expert possible ensuring my safety. It was a memorable experience and I was glad I didn't have to get in the vehicle.
From Torra Bay I still have to keep on the road because the beach is leased by a diamond mining company and they will not permit me to cycle along it. The aim is to reach Swakopmund on 2 June, but as we lost two days before I even started, using the road will give me a good chance to get there on time.