Blog 10
Day 13
31 May – 3 June
79km
Total Distance: 748km
The last day into Swakopmund from Henties Bay was fairly straight forward. A good quality bitumen road and a slight headwind, it was pretty much a case of turning the pedals with a good rhythm.
There was one shipwreck on the ride, the Zeila, a fishing boat that was being towed when it ran aground in 2008. It looked to be the perfect birds' nest, anchored in the sand with waves crashing around it.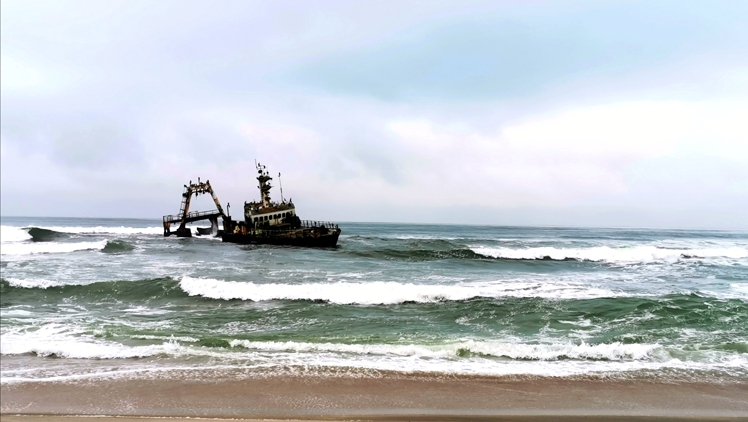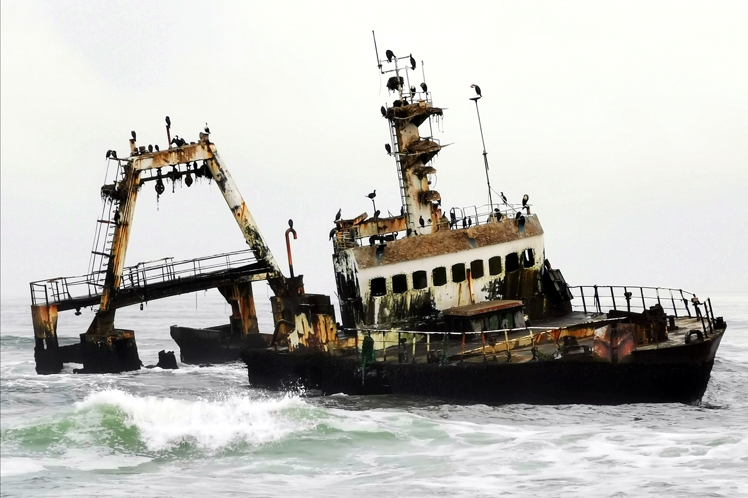 Halfway along I was met and interviewed by a journalist who is running a story in the Namibian newspaper. There has been a lot of interest in my journey. The cycle ride from the mouth of the Kunene River to Swakopmund has never been done before, let alone the whole journey to Oranjemund.
In Swakopmund, Kas and I have been fortunate enough to stay with Matt and Wendy Napier. They own an apartment right on the beachfront, so it has been a chance to relax and reboot. Matt is an Australian adventurer and poverty ambassador who, with Wendy's support, has completed several journeys, mostly walking, to raise awareness for poverty. In 2017 he walked the length on Namibia from south to north on a mostly inland route, then last year he walked across southern Africa from Walvis Bay, Namibia to Mozambique kicking a soccer ball…and he has done several other expeditions. http://www.walktoabetterworld.com/ I was introduced to Matt last year by a mutual friend, poverty campaigner d'Arcy Lunn, but we had never met. It has been very kind of him and Wendy to have us stay for three days.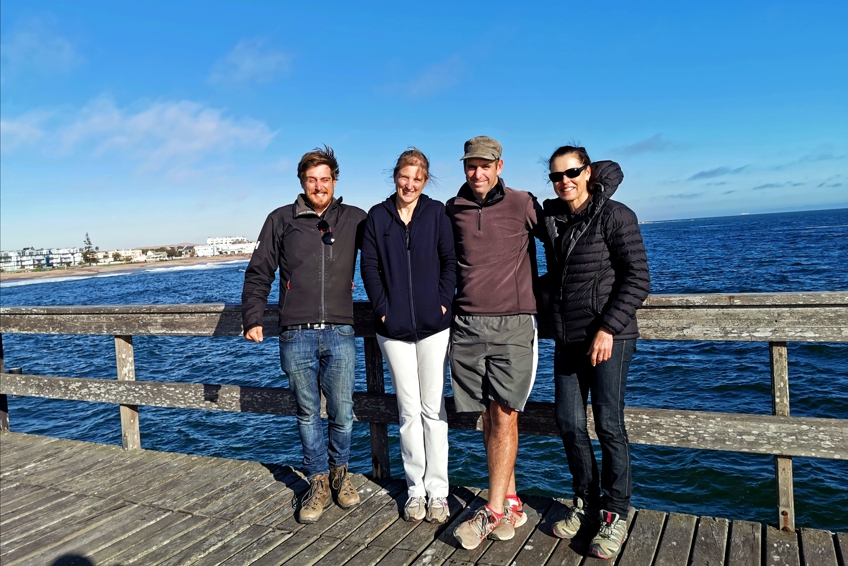 On Saturday we went to see the Moonscape, about 40 minutes drive out of Swakopmund. The rugged landscape has been formed by volcanic dolomite rock where overlying sand has been blown away over the millennia.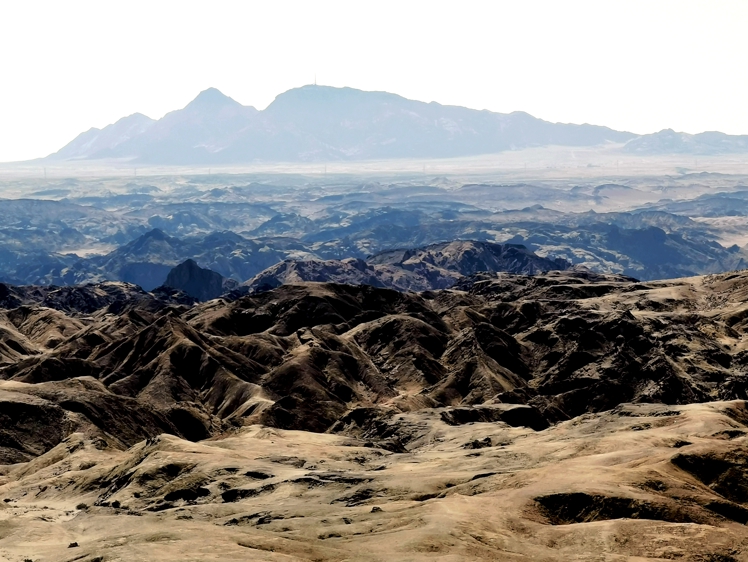 We were halfway through the tour when their vehicle broke down. Eventually, it was towed to an oasis within the Moonscape called Gonikontes. Jimmy Marais and his family (owner of Karibu Safari with whom I have set up the whole expedition) had driven from Windhoek to Swakopmund to meet us the previous evening. Fortunately, I was able to contact Jimmy and he was able to drive to Gonikontes to 'rescue' us.
Breaking the Cycle: Education in Swakopmund
Matt and Wendy had introduced me to Vera Leech, who has been deeply involved in schools and educational services around Swakopmund. Vera organised for me to speak to students at two quite different schools.
Although apartheid officially ended in Namibia when it obtained independence from South Africa in 1991, the residential make-up of Swakopmund still reflects the past divisions of cultures. Vera gave me a quick tour of the city. Henties Road, that I rode into the city on, is still remembered as the 'apartheid road'. Roughly speaking, the northern, ocean side of the road was, and still is, where people of European descent live. On the eastern side of the road are areas for 'coloured' and 'black African' people.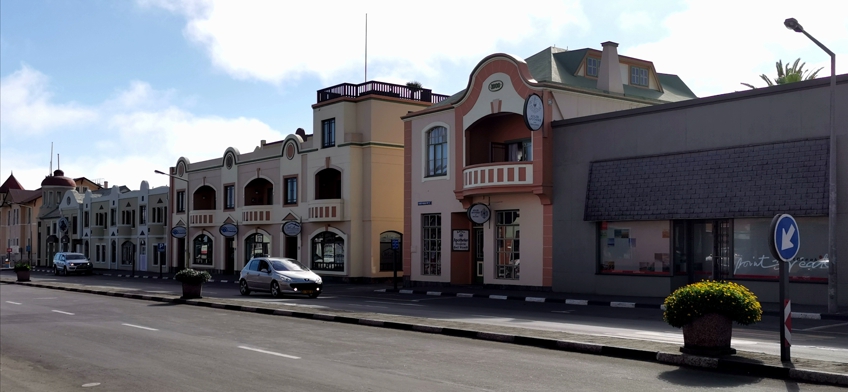 The living standard in these regions varies, generally the further away from the ocean, the poorer the region. The schools that I visited are in the Mondesa area, the poorest of the government-serviced black region. Further out is the DRC, which stands for the Democratic Resettlement Community, an 'informal settlement' in Swakopmund, not serviced by the government. It was founded in 2001 as a temporary resettlement community for people waiting for subsidised housing in the city. It was initially built mostly of reclaimed garbage from the city landfill. Now it is a sprawling slum, such a contrast to the more privileged white region, a remnant of the German colonial era.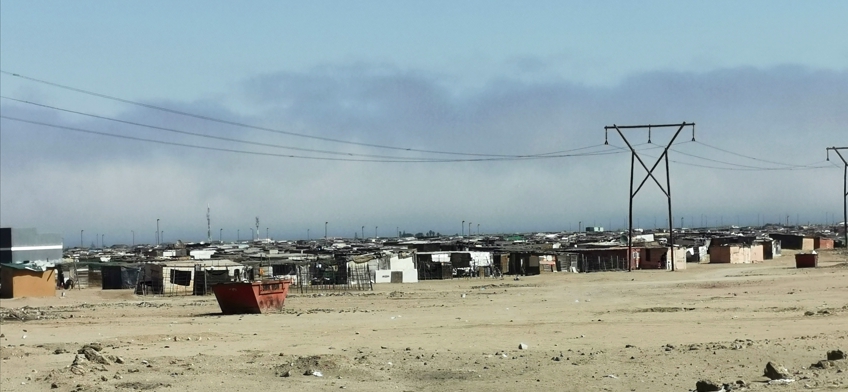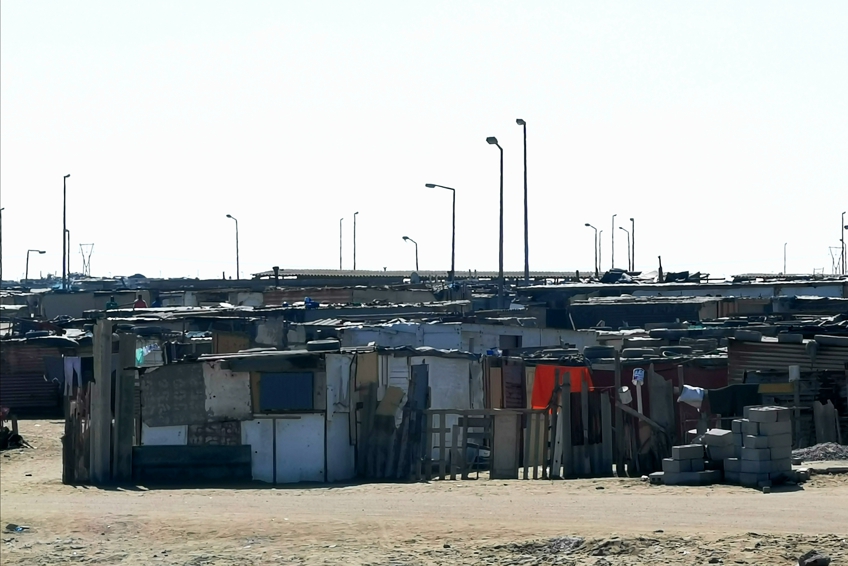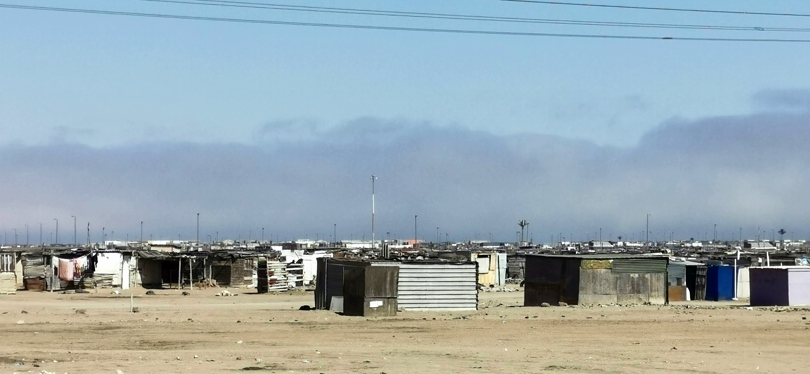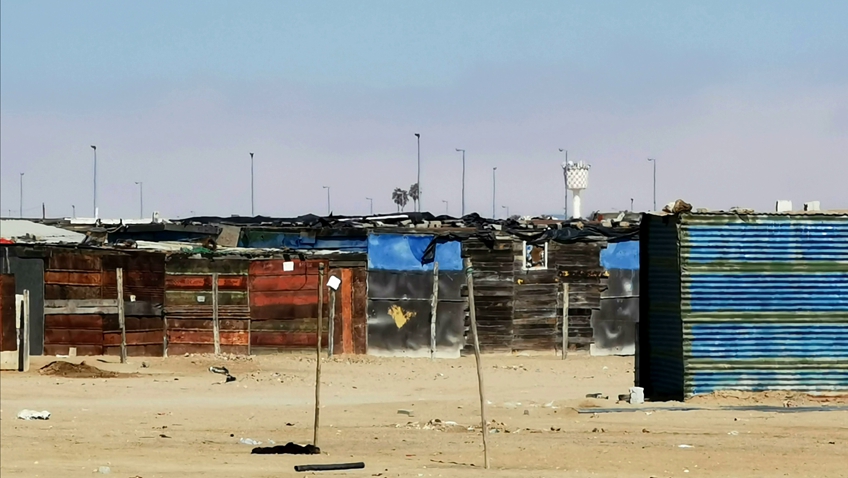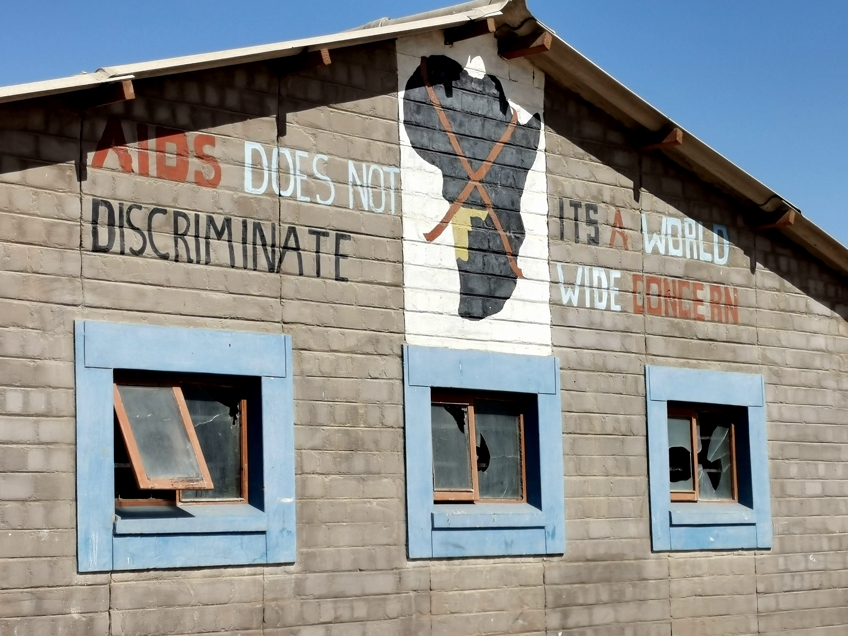 The first presentation was to a year 7 class at Festus !Gonteb Primary School, a government-funded school in the Mondesa area This is the poorest formal 'black' area that merges with the DRC. The principal, Mr Abraham, is very forward-thinking and is very proactive in looking after the welfare of the students and in developing the school. My talk was a little rushed, but very well-received by the year 7 students.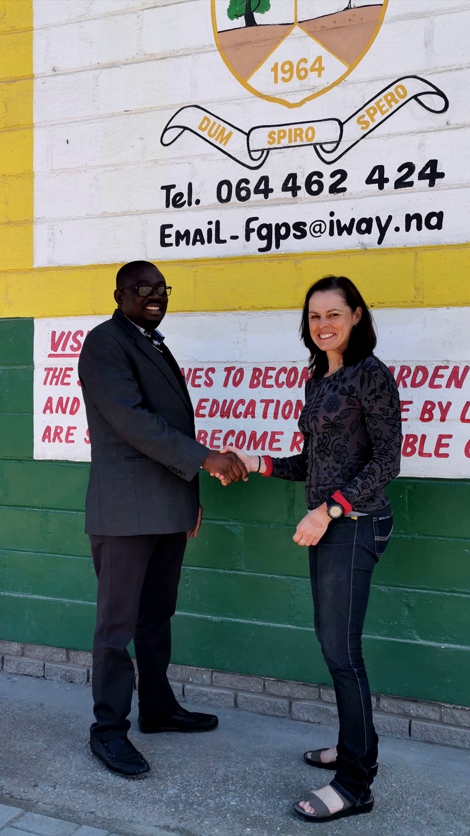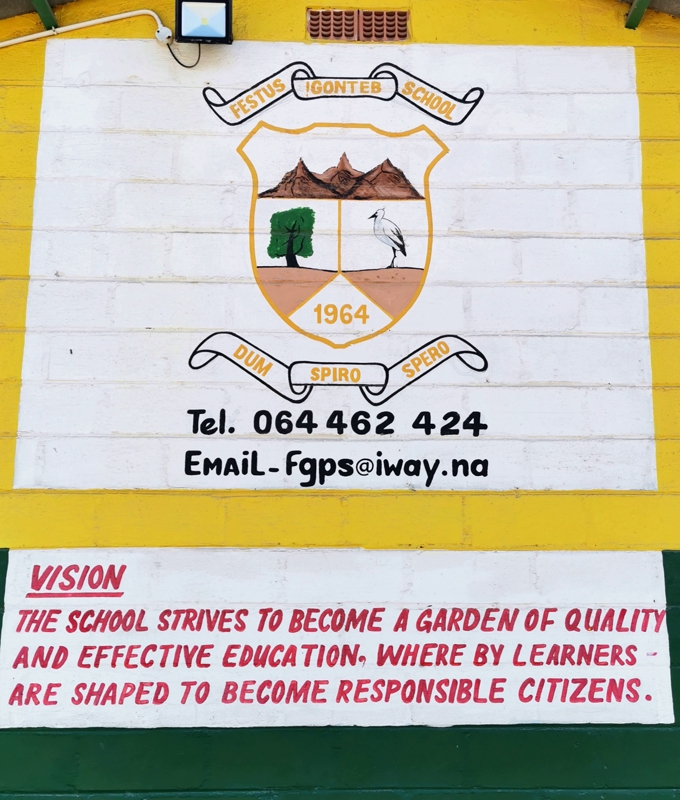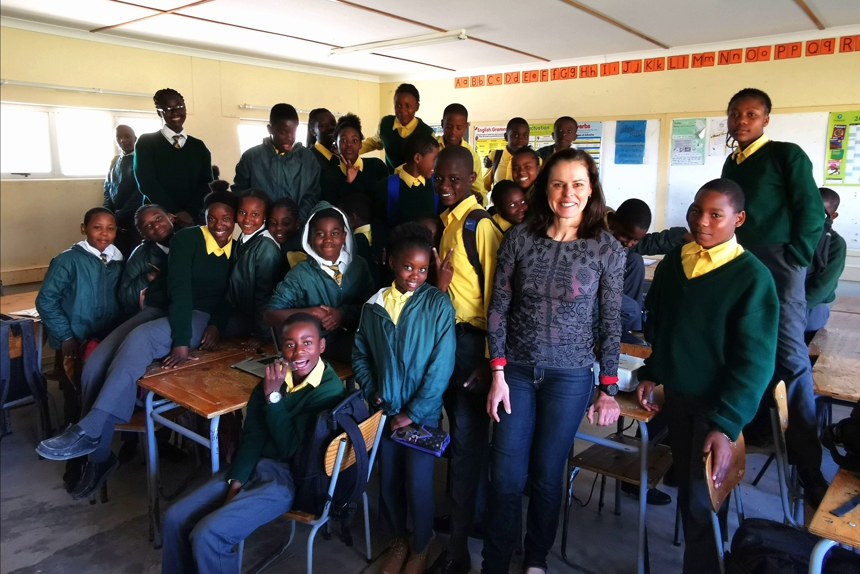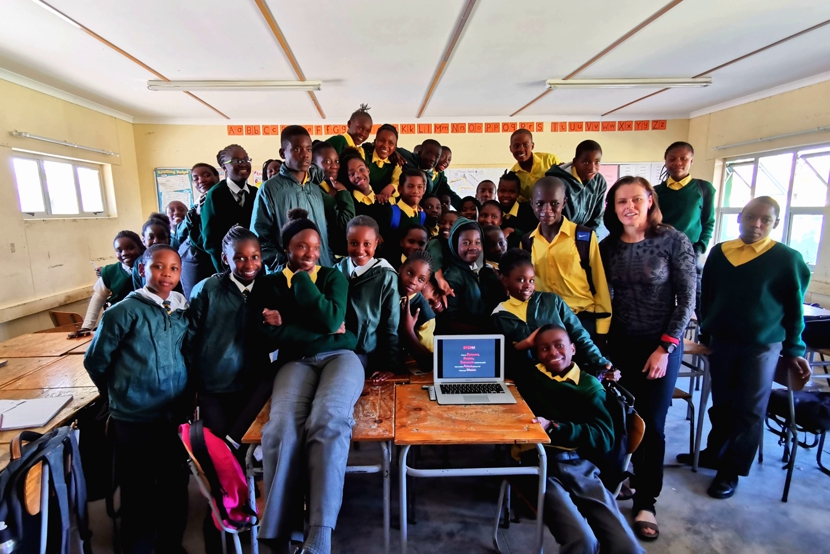 Vera has been responsible for setting up Mondesa Youth Opportunities (MYO), where I gave my second talk. This institution is all about educating tomorrow's leaders. High achieving students are selected from schools in the region and given extracurricular education in after-school hours. Unsurprisingly, the students were very responsive and quizzed me with great questions which I did not have enough time to answer in the session.
I was really pleased to hear from Vera that classes at the MYO had been taking part in the 10 Namibian lessons on my www.breakingthecycle.education website. I am going to connect some of these classes with Ivanhoe Grammar (or other schools) in Australia. www.mondesayouth.org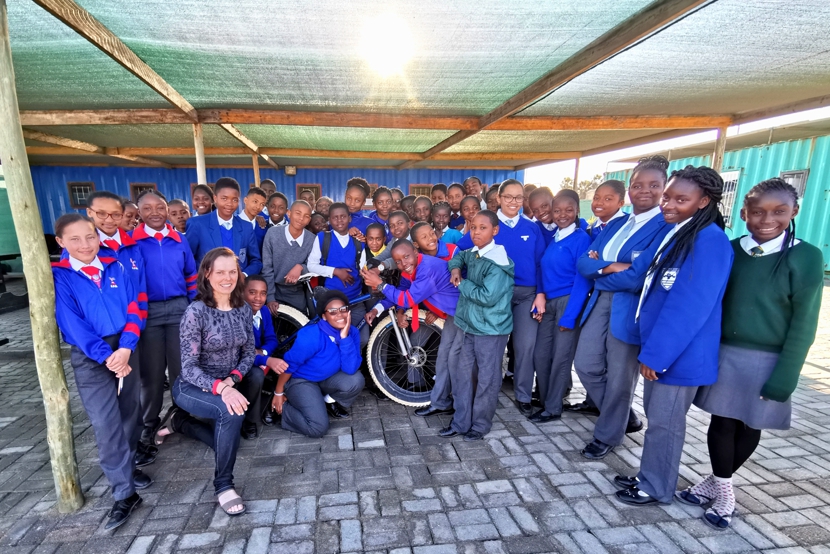 Our break is now over and tomorrow we will head off to Walvis Bay; a short riding day to get back into it. South of Walvis Bay, it is going to be tough. There will be 500km or so of sand and no roads whatsoever until Luderitz. This will be the longest, most remote part of the journey.