Blog 4
6th – 9th March
Total Distance – 701km
Day 7
Checacupe – Santa Rosa
Distance – 112km
Abre de La Raya – 4338m
The plan for the next four days was to reach Tilali near the Bolivian border beside Lake Titicaca, just less than 400km away. Javier was employed to film and drive until the 9th and on the following day, he is to drive back to Cusco to return the vehicle. I wanted to get some decent distances in on the first two days in order to relieve the pressure distance-wise on the next two days so we could concentrate on the journey around Lake Titicaca.
I started riding from Checacupe so to rejoin the line of my journey. Adjacent to where I set off, I was surprised to see a bullring there and learn that Peru still permits bull fighting. For the first couple of hours, I followed the course of a river, gently up a wide valley until a busy town called Sicuani. From there, the gradient gradually increased. I reached Agua Calientes just in time to avoid the customary mid-afternoon thunderstorm. People come from far and wide to bathe in the medicinal warm waters. Depending on the ailment, clients are prescribed soaking in specific pools, in a specific order and amount of time. I could have done with a treatment here.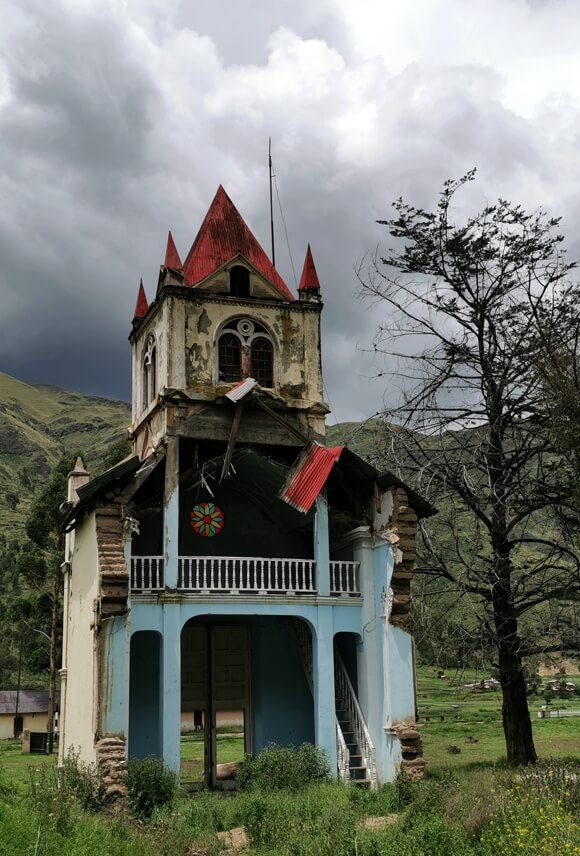 It was a further 10km of steady climbing in cold and wet conditions to reach the summit of Abre de La Raya (4338m). The pass only dropped away 300m over the next 30km as I was entering the realms of the Altiplano.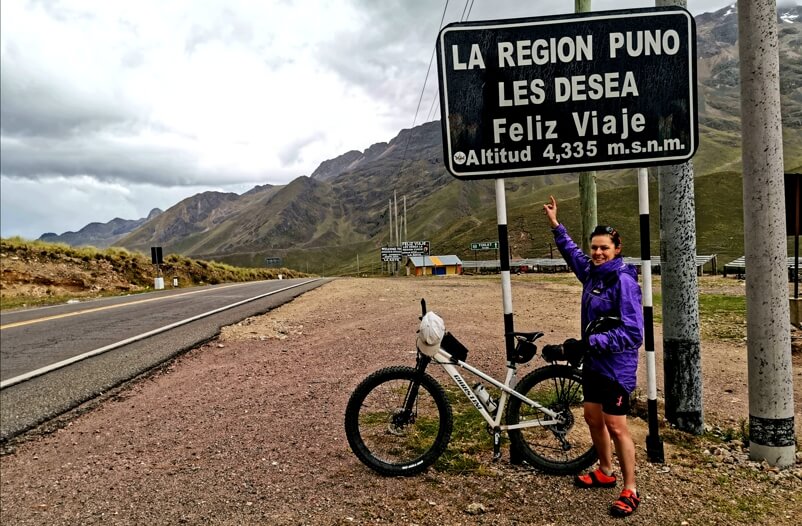 Rolling into Santa Rosa, on first appearances looked to be a dull and shabby town, until we reached the Plaza de Armas. The centre of town was clean and well-maintained, as was our accommodation, complete with hot shower!
Day 8
Santa Rosa to Calapuja
Distance – 116km
In past tours, cycling 116km in a day was a reasonably easy day, but these altitudes add significantly to the workload. Starting from Santa Rosa at 4006m, I faced only gentle gardens all day, finishing at 3849m at Calapuja, a small village 23km from Juliaca.
I enjoyed the vast plains flanked by rugged mountains. The plains were filled with different types of agriculture, from larger fields of turnips, maize and many other crops. There weren't too many fences and many animals (sheep, cows, alpacas and llamas) were tethered near to the roadside, usually supervised by the owners.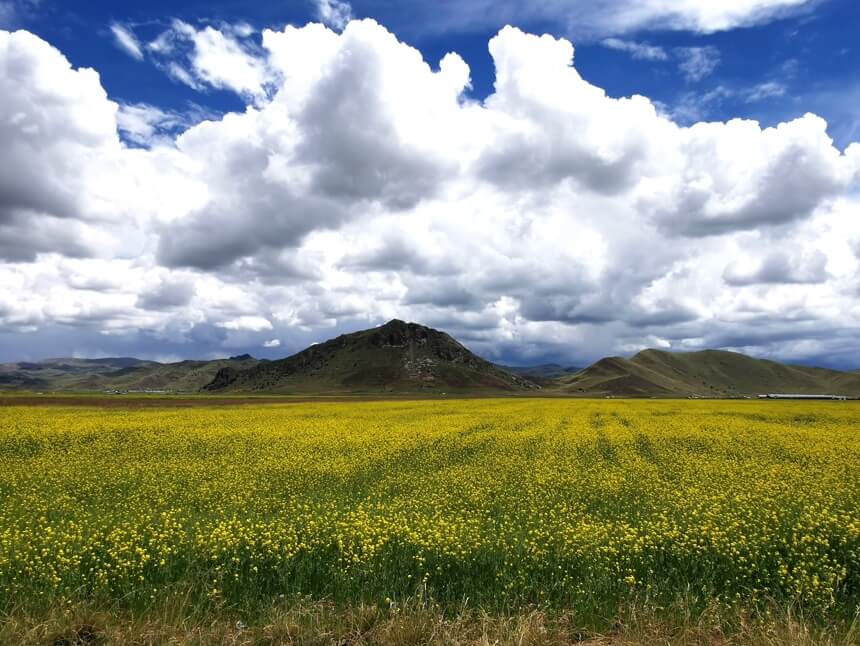 Perhaps the highlight of the day was stopping at Pucara (76km mark), an historic town built around a substantial Jesuit church, the Church of Santa Isabel. The Jesuits first settled here in 1760. The bull of Pucara holds a part religious, part mythical standing. When a air of bulls is played on the roof of a home, they assure happiness and protection to the family and peace and balance between husbands and wife.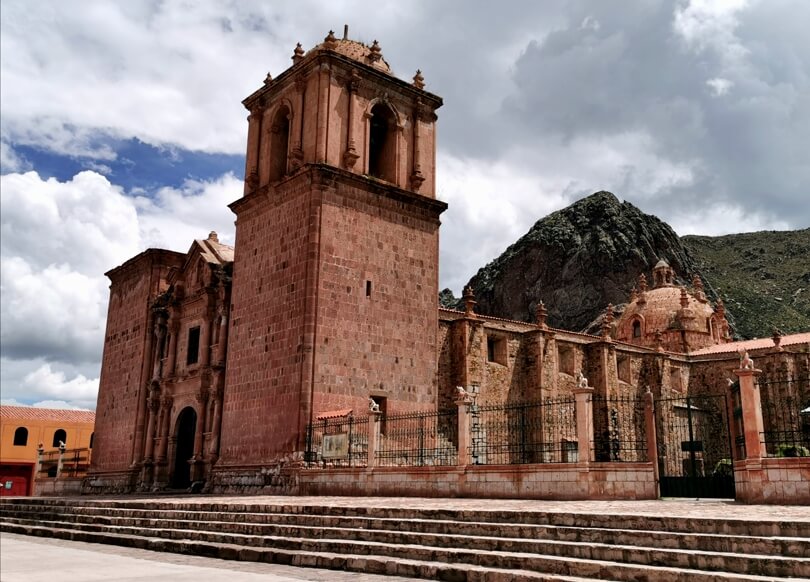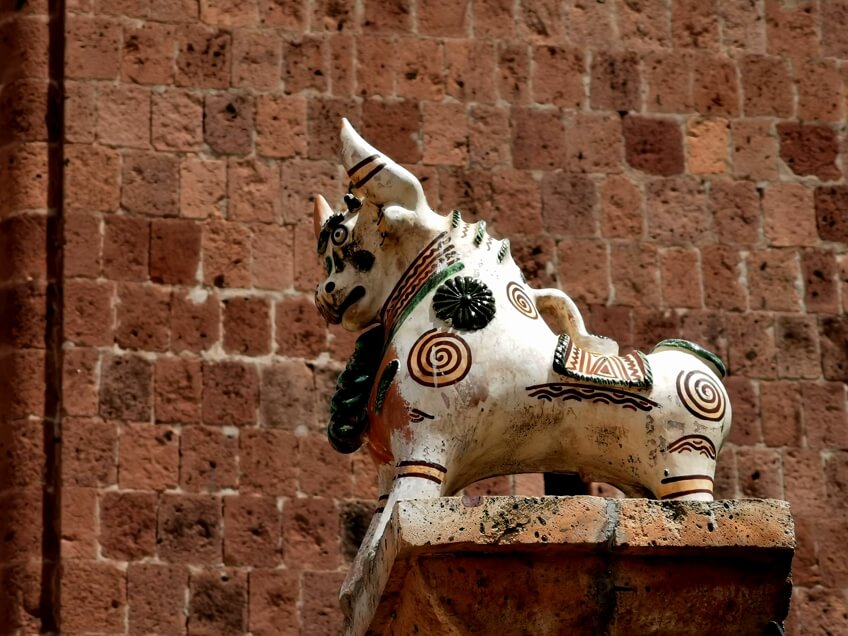 There was no accommodation in Calapuja, so we decided to drive into Juliaca and find a hotel to freshen up and catch up on communications. Juliaca doesn't have much to recommend it – chaotic, dirty and little seems well-maintained. The hotel was a rewarding sanctuary for a night.
Day 9
Calapuja to Huascane
Distance – 71km
The day started with sourcing some breakfast in Juliaca's busy Sunday markets. All streets in the city centre were blocked, overtaken by street stalls. There was little organisation, people seemed to set up stalls wherever they chose. There were meat stalls next to flower sellers, stalls devoted to selling different types of potatoes, all sorts of vegetables, dried fruits, etc.
Getting out of Juliaca was a real task. Javier ended up driving through muddy backstreets to avoid the congestion – quite an experience.
Back in Calapuja, the map suggested I had to go all the way into Juliaca and out towards Huancane, but I decided to take a short cut through a series of backroads which would save about 20km.
Just out of Calapuja, the track was blocked by a bridge wide enough for bicycles and motorbikes but not Javier's vehicle. We decided to split up – I would follow the tiny tracks visible on Maps.ME and Javier would go around on a more established route to the town of Achaya. Once over the bridge, my track was often reduced to mud, but I saw locals out of their motorbikes, working the fields that were all under crop. I passed a significant agricultural building and noted some sort of prohibited sign, but I assumed it was just for the building and continued to the next bridge, 6km away. Crossing the bridge, the track disappeared and I was following small tracks on the banks of inundated fields. I could see the village about three kilometres away.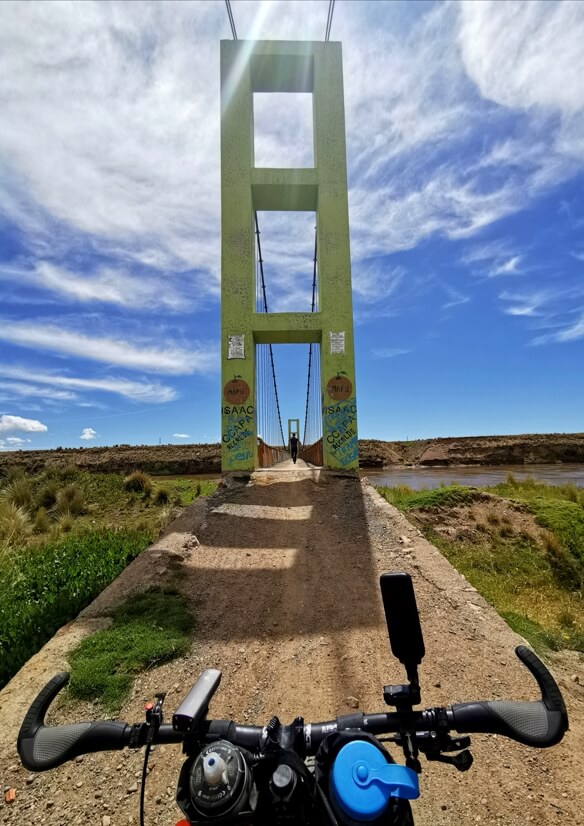 A young lad on a motorbike affirmed that I was heading in the right direction, but then I was met by an angry official telling me to go back. I don't speak Spanish and didn't;'t understand everything. I took the humble, apologetic approach and eventually he let me continue to Achaya.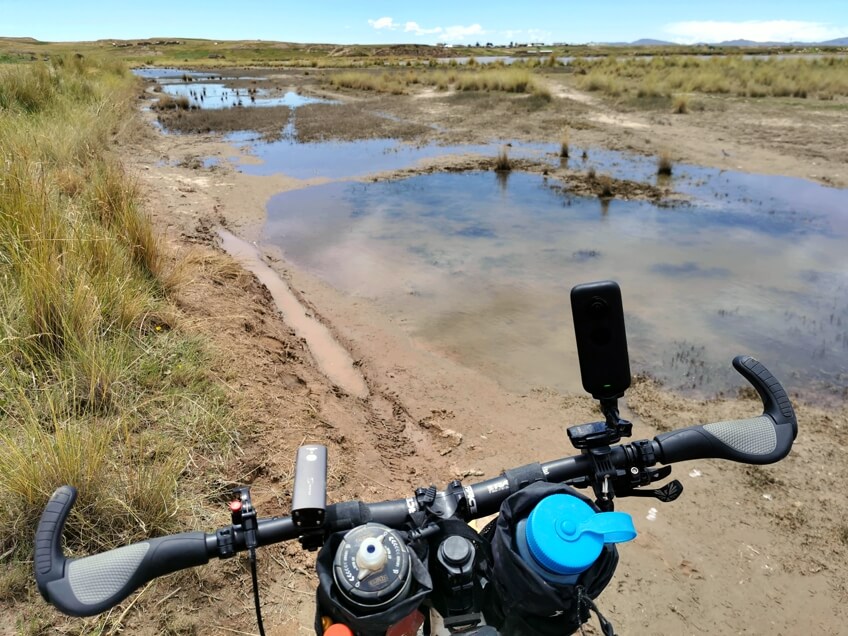 I arrived in the town square just as Javier was driving around it. He'd also had difficulties as the map directed him onto a path not suitable for vehicles. From there we worked our way from village to village on bumpy dirt tracks, taking a couple of wrong turns, but eventually found our way through the Ramis River floodplain to Caminaca, Saman and finally to the main road leading to around the east side of Lake Titicaca.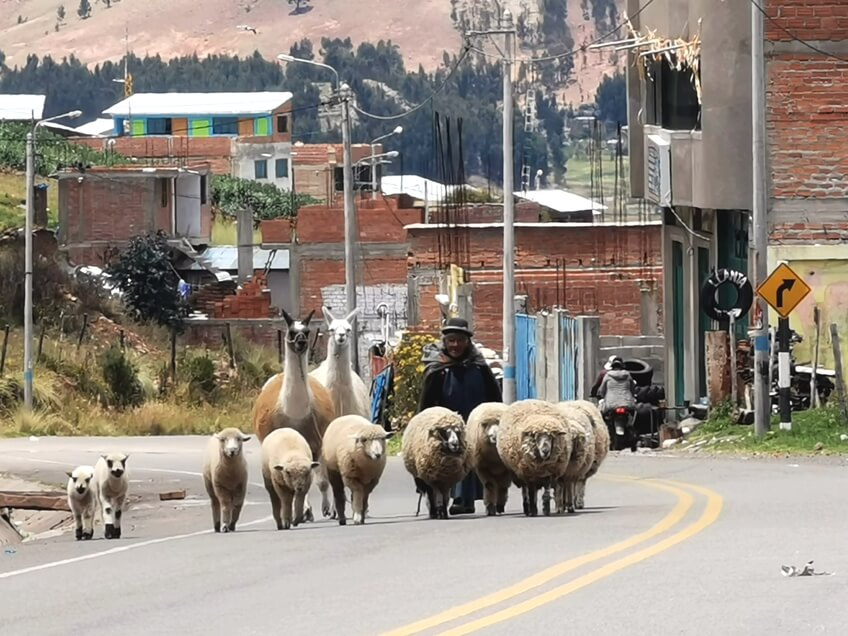 The Ramis River is one of just three main rivers that empty into Lake Titicaca. I made much faster progress on the main road and we made Huancane in good time. It may have been because it was a Sunday afternoon, but Huancane didn't seem to have much going for it. There were drunk men everywhere and none of the basic hotels were any good. The one we chose, after trying for an hour and a half was more like camping, but at least we had a secure place to stay.
Day 10
Huascane to Tilali
Distance – 75km
Today I was finally able to enjoy the beauty of a small part of Lake Titicaca, South America's largest lake and the highest navigable lake in the world at 3810m. This was also the last day of travelling with Javier who will head back to Cusco first thing tomorrow.
Once away from Huascane, I received my first glimpses of the turquoise waters – it was a sunny morning which served to really bring out the colours. The road then veered away from the shore, around a mountain system for about 20km, climbing to about 4141m.
Back at the lake, it was hard but rewarding work, the road following around the many bays and often rising steeply up the cliff faces. There were many sharp climbs and fun descents.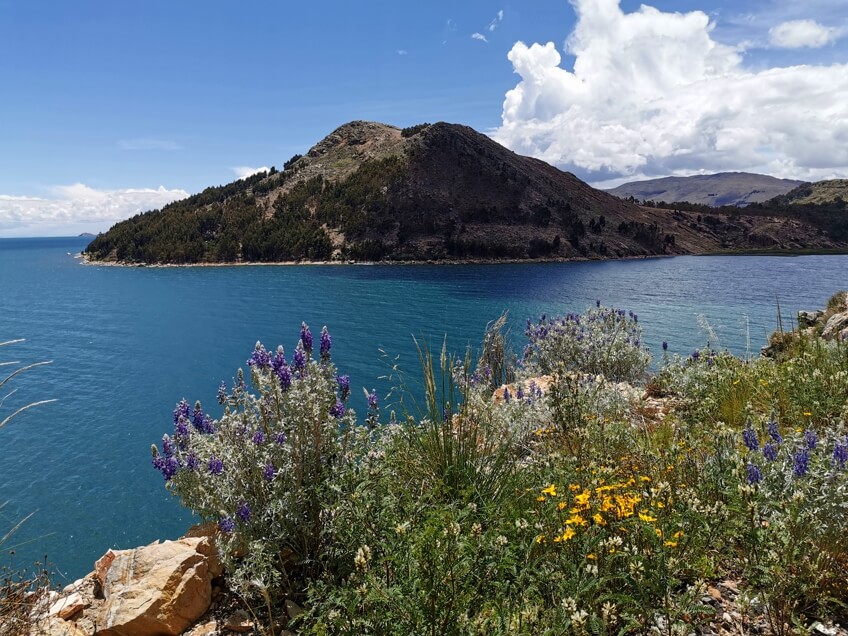 We arrived in Tilali by mid-afternoon. I wanted to start getting organised for crossing the border into Bolivia on my own. I have just spent hours working on how to pack all the gear, including the cameras and drone into my panniers. From here I have just over 200km to get to La Paz, Bolivia's capital. There I will meet up with Chris Pennington, who is going to film the rest of the journey.
Javier has done a great job filming and supporting the journey so far. I really appreciate his effort and energy.
There are some complications because the driver that I had arranged to accompany us through Bolivia and parts of northern Chile has sadly just had a motorbike accident and I am working on another solution.
So tomorrow, a new country and a big challenge ahead pedalling a heavily loaded bike.