Synposis
You can order your own copy of "Out There and Back". We ship worldwide, to Australia, New Zealand, UK, US, Europe, Canada…
Take a large measure of guts, strength, will and heart; add a bike and a young woman and spend 25 000 kilometres across Australia. Truth can be so much better than fiction. A brilliant story.
Bryce Courtenay
A fantastic adventure story – imagine riding a bike along the Canning Stock Route! A seemingly impossible feat.
Dick Smith
OUT THERE AND BACK
The story of the 25 000-km Great Australian Cycle Expedition
In 1993, Kate Leeming became the first woman in history to cycle across the 'New Russia', when she organised, led and completed the five-month, 13 400-kilometre Trans-Siberian Cycle Expedition in aid of the children of Chernobyl. Ten years later, she conceived and organised the Great Australian Cycle Expedition (GRACE), a 25 000-kilometre journey through her own country, 7000 kilometres of which were to be 'off road' on isolated tracks in remote regions.
The purpose of the expedition was to promote the importance of, and contribute towards, education for sustainable development. The expedition was the first Australian project, and one of the world's first, to be selected as a Demonstration Activity for the United Nations Decade of Education for Sustainable Development (2005-14).
Out There and Back is Kate's personal chronicle of the GRACE Expedition. At the same time it raises awareness of the importance of education for sustainable development, underpinned by the author's beliefs and fuelled by her experiences cycling across Russia. This detailed, often graphic, account of an amazing journey into the heart of Australia is told with style, humour and insight. A highlight is Kate's description of the first bicycle crossing of the Canning Stock Route (CSR) by a woman. The CSR, the world's longest, most arduous stock route, bisects four deserts and approximately one thousand sand dunes.
Cycling without the aid of a support vehicle (for all but the CSR), and alone for the second half of the expedition, Kate develops a close connection with and respect for the Australian people and landscapes, skilfully weaving in information about early explorers, pioneers and colourful characters who shaped the outback. She gives impressions of her visits to Indigenous communities and glimpses of life on cattle stations and in remote outposts and country towns.
This quality publication, with foreword by Robert Swan, OBE, is illustrated by over 300 full-colour photographs and will appeal to a wide readership around the world.
Excerpts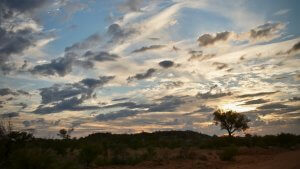 Page 261 With the wind at my back, I sailed towards home along the quieter roads. The harvest was in full swing and my main concern was to keep clear of unsuspecting wheat trucks on the narrow back roads. Finally, just before Goomalling, I could put the map away: I ...

Read more
Privacy Policy
We are committed to protecting the personal privacy of our customers, and observes the National Privacy Principles pursuant to the Commonwealth Privacy Act 1988.
Personal information about our customers, including your name, address, telephone number and other personal details will be handled appropriately, and you may contact us at any time to request access to the information we hold, or to request it to be updated or corrected.
We take measures to ensure that your personal information is protected from unauthorised access, misuse, disclosure or alteration. We will also take measures to securely destroy or permanently de-identify personal information when it is no longer required.
Delivery and Refund Policy
Australian buyers can expect to receive their books within 14 days; international customers should allow 28 days. Books will be dispatched within 4 days of orders being cleared for processing. They will be sent by Australia Post within Australia and by courier to overseas destinations. If the book becomes unavailable for any reason (such as out of stock), or there are delivery delays we will contact you by email within 7 days.
Every attempt will be made so that you receive your book(s) in 'as new' condition. Goods must be returned within 28 days from date of purchase from within Australia. Overseas customers should notify us of received damaged goods by email or fax within 28 days of purchase before returning the book(s). Misbound goods will be refunded or exchanged with proof of purchase. Return shipping costs will only be refunded in the case of misbound goods.