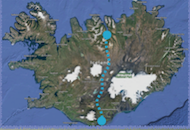 Polar training
When: 13th – 31st March 2018
On 13th March, Kate will join Mike Brailey and his son, Tristan for a two week journey through the central highlands of Iceland.
Kate needs to refine her clothing systems, diet and test her fourth generation bike thathas been made by Steve Christini. Mike and Tristan will be testing a polar support vehicle they are adapting to ensure it is ready for Antarctica. The team will travel to Iceland via a ferry that takes three days.