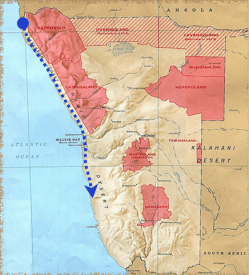 Sand cycling along the notorious coastline from the Kunene River (on the Angolan border) south to Walvis Bay and on to Luderitz (1000km).
The San of the Namibian interior called the region The Land God Made in Anger, while Portuguese sailors once referred to it as The Gates of Hell. The coastline is littered with a thousand shipwrecks and whale bones. The cold Benguela ocean current circulates straight from Antarctica, enshrouding the shoreline in fog until the strong on-shore winds disperse the haze.
The Namib Desert is one of the oldest, driest deserts in the world. The people and animals of the sparsely populated Kunene Region in Namibia's far north west, undergo constant struggles for water. A lack of clean, safe drinking water affects the lives and wellbeing of many local cultures; it compromises school students' ability to learn effectively and the ability of farmers to care for their livestock. 
The Kunene Nature Reserve is home to the Kunene Desert lions, an endangered species, due to the conflict between the needs of local inhabitants, who see the lions devastate their livestock and threaten the region's communities, and the necessity for the species to survive. The lions have adapted to exist in such inhospitable conditions, able to draw moisture from the blood of it's kill to rehydrate and has many special adaptations to minimise water loss.
Namibia however is the first African nation to formally adopt the need to preserve it's environment into it's constitution. During Kate's Breaking the Cycle in Africa expedition, while in the west Caprivi Strip, she met with Friedrich Alpers from the Integrated Rural Development and Nature Conservation (IRDNC), a world leader in it's field, and learned of many of the conflicts between humans (the Kwe and the military) and the environment.
This expedition will be an opportunity to learn about and support some of the development needs of the local people, and to highlight the plight of the Desert Lions and the work of Namibian institutions to manage the ongoing conflicts between humans and the natural landscape.
No one has ever cycled the Skeleton Coast from the the Kunene River/Angolan border to Walvis Bay (and possibly beyond). This expedition has the potential for many curriculum themes and stories that need to be told.
Like with the Finke River expedition, cycling in sand is excellent physical and mental preparation for Antarctica. Negotiating soft, unstable surfaces requires immense core strength and concentration. Different techniques are used compared with cycling on regular paved and gravel surfaces.
We will look for opportunities to include stories, culture, artwork and present day issues of the Himba and Herero people into the story and relate to students around the world. German colonists attempted genocide on the Herero in the late 1800s and early 1900s.